Introduction
Musculoskeletal (MSK) conditions such as arthritis and back pain affected an estimated 18.8 million people across the UK in 2017. They accounted for more than 22% of the total burden of ill health (morbidity) in the UK, and low back and neck were the biggest cause of ill health overall across all ages.1
We collect the best available data on the prevalence, risk factors, comorbidities, and impact of MSK conditions in the UK, so you can understand more about the people living with and affected by these conditions.
The State of Musculoskeletal Health is a resource for health professionals, policy makers, public health leads and anyone interested in MSK health. We believe that with the best information you can build awareness, make more informed decisions, feel more confident and ultimately help more people with MSK conditions.
For the full set of statistics, please download the full State of Musculoskeletal Health 2019 report (PDF, 1.5 MB).
Note-please refer to the full report for references.
What is the scale of the problem?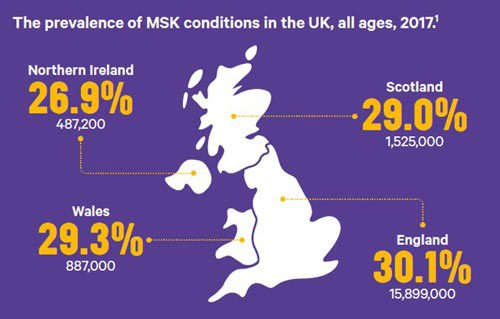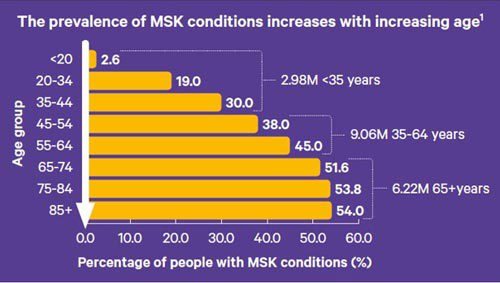 It is difficult to accurately determine how many people have arthritis only or arthritis and other MSK conditions in the UK. The data currently available on specific conditions comes from several different sources (e.g. modelled estimates, national surveys and registers) and is most often not routinely collected. We currently rely on the Global Burden of Disease study to provide us with an estimate of the total number of people with any MSK condition in the UK today. This estimate covers some of the most prevalent MSK condition including osteoarthritis, rheumatoid arthritis, gout, low back pain, neck pain, and other MSK conditions.
Condition specific estimates - United Kingdom
Inflammatory arthritis
Musculoskeletal pain
Over 8.75 million people ages 4 and over have sought treatment for osteoarthritis.17
Over 10 million people in the UK have persistent back pain.18
Between 1.7 to 2.8 million adults have fibromyalgia in the UK.19
Osteoporosis and fragility fractures
3 million people have osteoporosis. 20
500,000 fragility fractures occur each year. 21
Key factors affecting musculoskeletal health
Physical activity
Around one in four adults (16+) in the UK do less than 30 minutes of physical activity per week (inactive).10, 11, 22, 23 Inactive people are at increased risk of developing a painful MSK condition. Exercise generally reduces overall pain for people with a MSK condition.3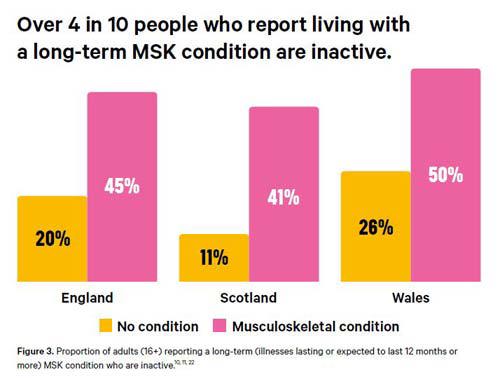 Obesity
Musculoskeletal conditions are one of the biggest threats to the health of people who are obese. Over 6 in 10 adults (16+) in the UK are overweight or obese.10, 11, 22, 23 Obesity directly damages weight-bearing joints such as knees and hips because of the abnormally high loads they have to carry.33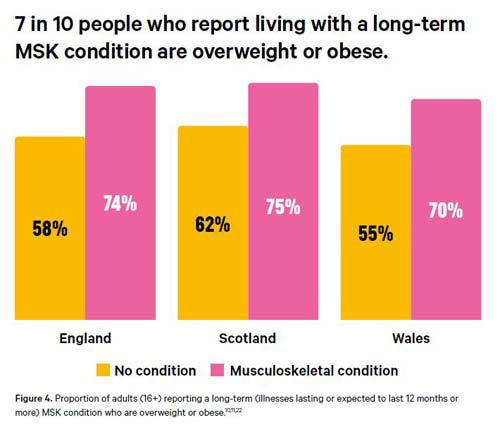 Multimorbidity
The number of people living with two or more long term conditions (multimorbidity) is growing increasingly common. Musculoskeletal conditions are very common in multimorbidity. Nearly four in ten people with multimorbidity are living with a physical and a mental health condition.43, 44
Among people over 45 years of age in England who report living with a major long-term condition, more than 3 in 10 also have an MSK condition increasing to almost 5 in 10 people among those aged 65 plus.3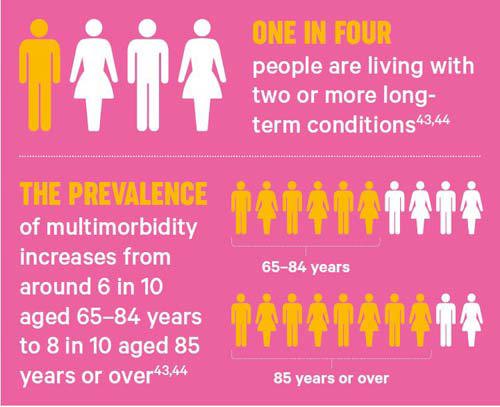 What is the impact?
Years lived with disability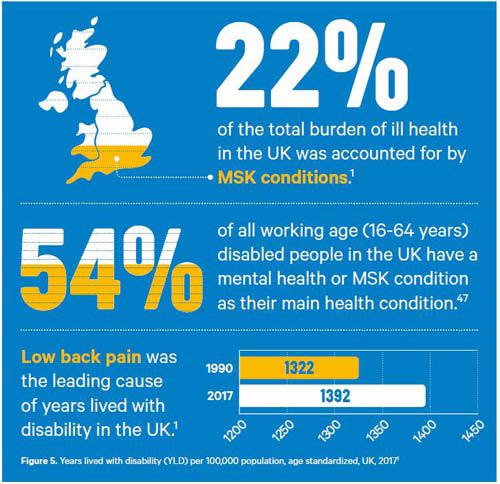 Work
People with MSK conditions are less likely to be in work than people without health conditions, and more likely to retire early. Around 63% of working age adults with an MSK condition are in work compared to 82% of people with no health condition.51 Being in good employment is protective of health. Conversely unemployment contributes to poor health.53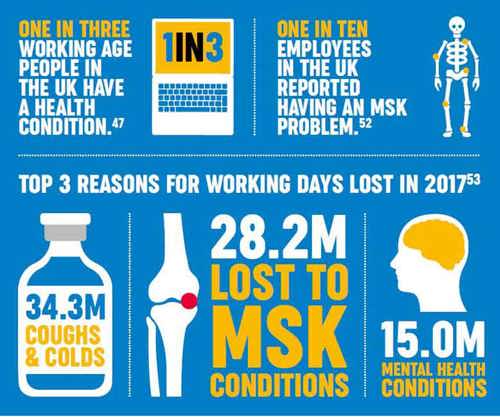 Health and care services
People with MSK conditions are frequent users of primary, secondary, community based, and social services.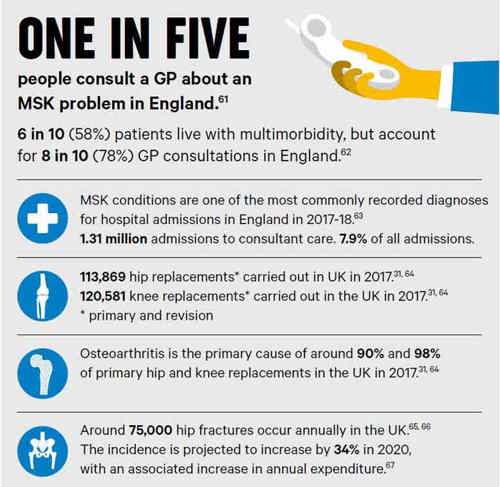 Economy
Musculoskeletal ill health results in significant costs for individuals, employers, the health service, and the wider economy.


Around 4 in 10 people*** in receipt of or entitled to Attendance Allowance in GB are recorded with an MSK condition as their primary disability condition.82
Around a third of people*** receiving Personal Independence Payment (PIP) in GB are recorded with an MSK condition as their primary disability condition.83
Nearly three out of ten (27%) people with arthritis are not aware of the welfare benefits they are entitled to.49
Economic benefits of musculoskeletal research
Investment into MSK research is money well spent. A new study estimating the returns generated by public and charitable investment for MSK research in the UK has found that research into MSK conditions, such as osteoarthritis, rheumatoid arthritis and back pain, not only results in improved health outcomes, but also generates economic gain for the UK.84