What are musculoskeletal disorders?
Musculoskeletal disorders are the commonest cause of disability in the UK. Each year 15 per cent of patients on a general practitioner's list will consult their doctor with a locomotor problem, and such conditions form 20–25 per cent of a GP's workload. About 30 per cent of those with any physical disability, and 60 per cent of those with a severe disability, have a musculoskeletal disorder as the primary cause of their problems.
Clinical skills – i.e. competent history taking and examination – are the key to making an accurate diagnosis and assessment of a patient complaining of joint problems. This booklet aims to outline the methods you might use. It is not intended to replace clinical teaching and experience but to be used as an aid to learning.
'Arthritis' is a term that is frequently used to describe any joint disorder (and not infrequently any musculoskeletal problem). It could be argued that the term 'arthritis' should be used to describe inflammatory disorders of the joint whilst 'arthropathy' should be used to describe non-inflammatory disorders. Other musculoskeletal problems should similarly be described according to their anatomical site (e.g. muscle or tendon) and whether they are of inflammatory or non-inflammatory aetiology. However, the term 'arthritis' is in such widespread general use to describe any disorder of the joint that, for the purpose of this guide, it will be used in that sense.
There are over 200 different types of 'arthritis' (both inflammatory and non-inflammatory) and, in general, it is not necessary for a practising clinician to know about all of these. A more realistic approach is to adopt a classification scheme, and to learn how to place patients' problems within this classification, using information gained through a full history and examination (as described in detail in the sections which follow).
Five key questions
The five key questions which need to be answered are:
Does the problem arise from the joint, tendon or muscle?
Is the condition acute or chronic?
Is the condition inflammatory or non-inflammatory?
What is the pattern of affected areas/joints?
What is the impact of the condition on the patient's life?
The answers to these questions should enable you to produce a succinct summary of the patient's condition. An example of a patient summary produced using this method might be:
This patient has a chronic symmetrical inflammatory polyarthritis, mainly affecting the small joints of the hands and feet, which is causing pain, difficulty with dressing and hygiene, and is limiting her mobility.
This would result in the patient being placed as indicated on the classification tree.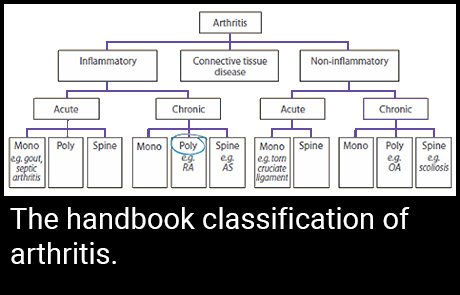 Abbreviations
ABBREVIATIONS: CMC(J) carpometacarpal (joint); CT computerized tomography; DEXA dual-energy x-ray absorptiometry; DIP(J) distal interphalangeal (joint); ESR erythrocyte sedimentation rate; GALS gait, arms, legs and spine; MCP(J) metacarpophalangeal (joint); MRI magnetic resonance imaging; MTP(J) metatarsophalangeal (joint); NSAID non-steroidal anti-inflammatory drug; OA osteoarthritis; PIP(J) proximal interphalangeal (joint); RA rheumatoid arthritis; REMS regional examination of the musculoskeletal system.