Ben's story
Buying a new pair of football boots is a big deal for any sports-mad teenager.
But, the shopping experience was a particularly special moment for 14-year-old Ben.
He never got to wear his last pair of football boots because his arthritis was so bad and he grew out of them. But now, thanks to his treatment and the support of his family, his arthritis is under better control.
Ben's passion for sport is similar to many children his age. But unlike many people his age, Ben has juvenile idiopathic arthritis (JIA).
JIA is an autoimmune condition, which means his immune system is overactive and attacks his joints.
The condition causes Ben pain, especially at night and first thing in the morning.
Diagnosis
Ben was diagnosed with JIA in December 2013, eight months after he was first taken to a doctor.
After diagnosis, Ben was placed on a drip of steroids for four hours a day, from Friday to Sunday for two weeks in a row because his arthritis had become so severe.
JIA can cause permanent damage to joints if left untreated, so it's important young people are given the right treatment quickly to get the condition under control.
Ben is currently on the disease-modifying anti-rheumatic drug methotrexate and the biological therapy etanercept. After having side effects to methotrexate his dose was reduced.
Coping with symptoms
While Ben's health has improved, he still has inflammation. In the past couple of years, Ben has experienced a lot of pain. The pain did recently go completely for a while, but it has since returned.
Mum Kerry said: "Some of the worst times have been at bedtimes, when Ben has been in real pain. There isn't a lot I can do apart from say, 'think positive thoughts', and try to use distraction techniques.
"It's been horrible at times."
Kerry said that although it can be tough, encouraging young people with arthritis to do their physiotherapy and exercises such as swimming is important.
Ben said: "I try to go swimming twice a week, even if it isn't for very long."
Big step forward
Ben has already put his new pair of football boots to good use.
He said: "I'm really pleased to be able to join my school friends in PE, especially as we're playing football and I've not been able to join in PE for a couple of years.
"My first pair of boots, which I never got to wear, were size four. I've had to buy a new pair in size 10. I've even scored a couple of goals. After some more physio my next goal will be to go on a course to become a referee."
Watching your child struggle with their health isn't easy for any parent. Mum Kerry said: "After diagnosis, it may still be a long journey.
"I remember thinking 'it'll all be better in a week or two'. But with most medications, you have to allow three to four months for them to start working properly."
Kerry has this advice for parents in a similar situation: "Keep pushing. It's hard, but you need to keep pushing for answers. Parents need to be able to let off steam. I think it's useful for parents to find a link to other parents of children with arthritis. Other people just don't understand."
Helping to carry the load
Ben, who lives with his parents and younger brother Adam, has a positive outlook. He said: "I've got really nice friends.
"I've told them about my arthritis and they're very understanding. When my arthritis is bad, my friends carry my bag for me.
"I love playing football, but sometimes my arthritis won't let me play. I have friends over and we watch films together instead.
"I enjoy school. It's boring when I have to stay at home. My form tutor has moved my classes downstairs so I don't have so far to get around. If I need to go upstairs, there's a lift. I haven't missed any days this term. I'm very proud of that.
"I'd like to go to university. I'd like to be a football referee when I'm older."
Clare's story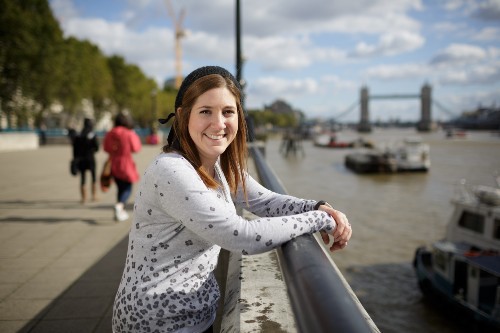 Clare can't remember a time in her life when she didn't have arthritis.
She was diagnosed with juvenile idiopathic arthritis (JIA) when she was two years old.
But that hasn't stopped her from completing a degree in textiles, travelling around Australia and taking up a job at a hospital and university.
Growing up
Clare said: "I didn't know anyone else with arthritis when I was growing up. When I went for hydrotherapy, it was always only older people in the session.
"But I didn't personally see my arthritis as a weird thing because it's always been there. Someone who gets it late in childhood might find that quite difficult.
"One of the main things is to let young people with arthritis know that, while it's a bit different, they're not alone."
School
One of the main problems Clare experienced growing up was a lack of understanding that young people can have arthritis.
Clare said: "As a child, I didn't have a lot of movement. Some teachers were good because my mum went in and spoke with them. But some weren't so good.
"I struggled with PE and some teachers said: 'Come on, you're fine'."
Travelling
After university, Clare decided to spread her wings and travelled Australia for a year.
"I was going to be in the outback for six months. I had to make sure I had enough medication so I could deal with any potential flare-ups before I could get to a doctor.
"The main consideration was researching where I was going to find out where the nearest medical facilities were and how I'd get help if I needed it.
"My arthritis wasn't too bad and I didn't have a flare-up when I was away, so I only took anti-inflammatories. The warm weather helped. I did cleaning jobs and some fruit picking."
Clare would encourage people looking to travel to be prepared and research restrictions in different countries. She said: "I'm on methotrexate now. If I went to Australia again, I'd have to be more prepared.
"When I went to New York, I needed a doctor's note to say I needed to carry my medication with me, because of the extra security measures."
Talking to employers
Back in the UK, Clare unfortunately suffered a nasty flare-up in 2012. She'd recently moved house and her new doctor didn't know her history. It took six months to get appropriate treatment.
Flare-ups can understandably affect Clare's mood. She said: "When it was getting bad, it was making me depressed.
"It forced me to talk about it at work. They were really supportive. They did anything they could to make it comfortable."
Talking about your condition with employers is something Clare recommends.
She said: "There have been jobs where I suffered in silence. Then as soon as I told my employers about the issues, they helped me, for example, with a leg rest, regular breaks and being able to get up and go for walks."
Happy ending
Clare works in London on the South Bank of the River Thames in a university.
Clare got married to Paul in a beautiful ceremony in Staffordshire where she grew up, and the happy newly-weds then enjoyed a fantastic honeymoon in Bali.