Location: Glasgow office/home based in Scotland
Hours: Full-time, 35 hours per week.
Salary: £58,000 per annum
Benefits: Read more about the excellent benefits we offer
Contract type: Permanent
Travel: Frequent travel across Scotland/Some travel to London, Belfast, Cardiff and Chesterfield offices
Closing date: 23:59, Thursday 19 May 2022
Download the job description and person specification for the Head of Scotland role (PDF, 189 KB).
Through our diversity and inclusion strategy, we have made a commitment to increase the diversity of our charity and we welcome candidates from a wide variety of backgrounds and experiences.  We want our employees, volunteers and trustees to represent the broad diversity of the communities of which we are a part.
Summary
People with arthritis in Scotland face a challenging time post COVID.  Versus Arthritis wants to make a difference across our health and research to make effective and lasting change.  We are looking for a strong leader who will be a determined advocate for people with arthritis working closely with the Scottish Government, NHS Health Boards, making alliances and partnerships.
We have big ambitions, and all of our activities must work together to deliver these. In this way we will build recognition of the impact of arthritis. We will catalyse and galvanise communities across the UK who push back against arthritis. We will find discover, innovate, and enable new solutions, directly provide these and influence others to make big change happen. Critical to success is growing our income and creating a sustainable organisation equipped and able to deliver the support and solutions that people will look for.
About the role
You will be a key figure in the external landscape for Versus Arthritis, leading all external affairs and stakeholder management in Scotland, and acting as the main point of contact for current and potential partners in health and social care, public health and government.
Internally, you will provide strategic leadership, insight and intelligence to ensure a 4-nation approach to decision making at the highest level of the organisation; Board, CEO and Organisational Leadership Team. You will work collaboratively across all directorates to support effective planning to operationalise Versus Arthritis strategies across all four nations; including delivery, influence, research, funding and communications.
As the most senior member of staff based in Scotland you will also play an integral leadership role in developing and maintaining a sense of community, connection and nation identity for all staff and volunteers working in nation focused roles.
This role will ensure the needs, priorities and opportunities within each nation inform our organisational priorities.
Key requirements
You will demonstrate:
A significant understanding of the charity sector in Scotland and the dynamics around business decision making, change and strategic planning.
Good experience of knowledge of the policy and public affairs environment across Scotland. Good experience or knowledge of leading wide policy, public affairs and campaigning in nation.
Experience of working with and/or supporting people with long-term health conditions/disabilities at a strategic level.
Ability to influence, negotiate and persuade others in a wide setting including senior leaders in the organisation, external stakeholders, and internal colleagues.
Strong programme management and organisational ability, including being able to prioritise activities and independently manage own workload that includes multiple strands of work.
Strategic thinking – ability to anticipate and resolve problems before they arise.
How to apply
To apply you MUST submit:
a concise, up-to-date CV
along with a completed supporting statement (Word, 40.04 KB) demonstrating how you meet the key requirements set out in the job description and person specification for the Head of Scotland (PDF, 189 KB)
please include where you've seen this role advertised.
Email your completed application by 23:59, Thursday 19 May 2022 to recruitment@versusarthritis.org.
We advise candidates to apply early as we reserve the right to close applications ahead of this date.
Only shortlisted candidates will be contacted.
Interviews
First interviews expected: Thursday 26 May 2022, Glasgow.
Second interviews expected: Tuesday 7 June 2022, Glasgow.
About us
There are 20.3 million people living with arthritis and MSK conditions in the UK. That's one in three people, many who live in pain every single day. The impact is huge as the condition intrudes on everyday life – affecting the ability to work, care for a family, to move free from pain and to live independently. Yet arthritis is often dismissed as an inevitable part of aging or shrugged off as 'just a bit of arthritis'. We don't think that this is ok. Versus Arthritis is here to change that.
Join us and use your skills, knowledge, passion and energy to help us defy arthritis.
Read more about working for us.
Happy to Talk Flexible Working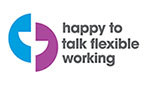 Promoting equality in the workplace.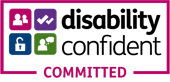 Promoting and supporting diversity in the workplace.
Versus Arthritis is a Registered Charity No: 207711 and in Scotland No. SC041156.