Location: Flexible
Hours: Full time, 35 hours per week
Salary: £31,660 per annum (London), £28,590 per annum (rest of the UK)
Benefits: Read more about what we offer
Contract type: Fixed-term for 8 months
Travel: Some travel to London office
Closing date: 17 May 2021
Download the job description and person specification for the Account Executive role (PDF, 212 KB).
Summary
Versus Arthritis' brand team work together to help Versus Arthritis achieve the six ambitions of our organisational strategy. The Account Executive will be part of the account management team within the Brand team and work with the Account Manager, Brand Manager and design team plus our external agencies to deliver creative solutions within Versus Arthritis and externally.
About the role
The Account Executive will have sole responsibility for the delivery of small and mid-size brand projects, liaising with internal clients across the organisation and ensuring projects are delivered on time and to schedule. You will also work in support of the Account Manager to deliver larger and more complex projects. For this role, you will need to have a strong understanding of the brand and you will be key in supporting the brand roll out across Versus Arthritis.
Other responsibilities will include helping internal clients to develop effective creative briefs, where necessary challenging briefs to ensure that the projects are on brand and deliver on our organisational ambitions. A key function of the role is to develop and maintain positive ongoing relationships across the organisation to maintain the profile of the brand team at Versus Arthritis.
Key requirements
Experience of working on the rollout and management of brands either in an agency or in-house.
Experience of being sole lead when project managing design / creative projects.
Experience of forming strong long-term relationships both internally and externally.
Excellent written and verbal communications skills, experienced with communicating to a range of internal and external audiences.
Experience of working with external suppliers such as design agencies, photographers, illustrators and copywriters.
Experience and understanding of tone of voice and how it can be utilised as a key element of the brand.
Ability to prioritise, to raise issues where necessary and to manage workload efficiently.
How to apply
To apply you MUST submit:
a concise, up-to-date CV
along with a completed supporting statement (Word, 40.04 KB) demonstrating how you meet the key requirements set out in the job description and person specification for the Account Executive role (PDF, 212 KB).
please include where you've seen this role advertised.
Email your completed application by 17 May 2021 to recruitment@versusarthritis.org.
Interviews
First interview expected: 27 or 28 May 2021 on Microsoft Teams.
About us
Arthritis causes pain, fatigue and isolation for 17.8 million people in the UK every single day. It can impact on the ability to work, our relationships and take away our independence. We don't accept this.
We are Versus Arthritis. We are volunteers, healthcare professionals, researchers and friends, all doing everything we can to push back against arthritis. We're reaching out to everybody with the information and support they need, funding vital research and changing the way society sees arthritis. Together we'll keep running, researching, influencing, volunteering, advising, chatting, baking, listening. We won't stop until no-one has to tolerate living with the pain, fatigue and isolation of arthritis.
Join us and use your skills, knowledge, passion and energy to help us defy arthritis.
Read more about what we do, working for us and what we offer.
Happy to Talk Flexible Working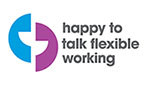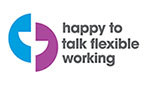 Promoting equality in the workplace.
Versus Arthritis is a Registered Charity No: 207711 and in Scotland No. SC041156.