Development officer - Birmingham
Location: Home based
Hours: 35 hours per week
Salary: £24,510
Home Working Allowance: £390pa
Benefits: Read more about what we offer
Contract type: Fixed-term – 24 months
Travel: Frequent travel within Birmingham. Occasional travel to our offices in Chesterfield and London
Closing date: 5.00 pm on Tuesday 13 April 2021
Download the job description and person specification for development officer role (PDF, 225 KB).
About the Role
We are looking for a passionate, motivated and enthusiastic individual to take up an exciting position to help us develop and shape the work Versus Arthritis does in local communities. Working as part of a new team, you will take a lead role in delivering our pilot project - called Together Versus Arthritis – in Birmingham. Through the pilot we aim to reach more people with arthritis, create new local peer-support groups, bring in new insight, raise awareness, fundraise and create engaged networks of people within local communities.
You will be responsible for creating and supporting a local network of people, professionals and organisations - building strong, lasting relationships within the community; people with arthritis, current and future volunteers, community and voluntary organisations, researchers and health and social care partners. This includes working closely with other teams to identify, recruit, train and support volunteers to support this work.
You will work alongside colleagues working in the other pilot sites, supported by our services team and the central Together Versus Arthritis project team.
What we are looking for
To be successful in the role, you will be committed to Versus Arthritis values and behaviours as well as:
Knowledge and understanding of engaging and working with underserved groups.
Excellent communication and interpersonal skills, and evidence of excellent relationship management with a wide range of stakeholders.
Experience of working with volunteers including identifying, recruiting and supporting volunteers as well as knowledge of best practice in volunteer management.
Experience of community development approaches including co-production and co-design or involving people with lived experience in decision making.
How to apply
To apply you MUST submit:
a concise, up-to-date CV
along with a completed supporting statement (Word, 40.04 KB) demonstrating how you meet the key requirements set out in the job description and person specification for the development officer role (PDF, 159 KB)
please include where you've seen this role advertised.
Email your completed application 5.00 pm on 13 April 2021 to recruitment@versusarthritis.org.
Interviews
Interviews to be held on 22 or 23 April 2021 via Microsoft Teams.
We advise candidates to apply early as we reserve the right to close applications ahead of this date. Only shortlisted candidates will be contacted.
For further information on how to apply and our recruitment process please visit our current vacancies page.
About us
Arthritis causes pain, fatigue and isolation for 17.8 million people in the UK every single day. It can impact on the ability to work, our relationships and take away our independence. We don't accept this.
We are Versus Arthritis. We are volunteers, healthcare professionals, researchers and friends, all doing everything we can to push back against arthritis. We're reaching out to everybody with the information and support they need, funding vital research and changing the way society sees arthritis. Together we'll keep running, researching, influencing, volunteering, advising, chatting, baking, listening. We won't stop until no-one has to tolerate living with the pain, fatigue and isolation of arthritis.
Join us and use your skills, knowledge, passion and energy to help us defy arthritis.
Read more about what we do, working for us and what we offer.
Happy to Talk Flexible Working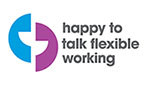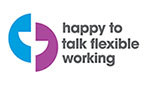 Promoting equality in the workplace.
Versus Arthritis is a Registered Charity No: 207711 and in Scotland No. SC041156.