Head of people business partners
Location: Flexible - London, Chesterfield or homeworker
Hours: Full-time 35 hours per week
Salary: £54,035pa (London), £51,005pa (rest of UK)
Benefits: Read more about what we offer
Contract type: Permanent
Travel: Regular travel to London and Chesterfield offices
Closing date: 29 June 2021
Download our candidate pack (PDF, 199 KB), job description and person specification for the Head of People Business Partners role (PDF, 236 KB).
Key requirements for the role
Significant generalist HR experience, including managing complex employee relations cases and an understanding of how to maintain up to date practice in this area.
Experience of developing and managing service standards related to people partner services.
Experience of managing and leading people partners or equivalent, developing members of the team to reach their full potential.
An awareness and appreciation of the differences between staff and volunteer support and a willingness and ability to integrate where appropriate and retain distinction where necessary.
How to apply
To apply please provide:
a concise, up-to-date CV
along with a completed supporting statement (Word, 40.04 KB) demonstrating how you meet the key requirements set out in the job description and person specification for the Head of People Business Partners role (PDF, 236 KB)
please include where you've seen this role advertised.
The recruitment team will anonymise your CV and supporting statement before forwarding to the shortlisting panel. This is to reduce any potential bias in the process.
Supporting statements should be no more than two sides of A4 and should summarise:
How your skills and experience are relevant to the role.
What style of leadership you would bring to the role and why.
How you would prioritise your time in the first six months in role.
It is possible to apply for more than one post, if you feel you have the required skills and experience. To do this please submit one CV and a separate supporting statement for each role you are applying for.
Email your completed application by 29 June 2021 to recruitment@versusarthritis.org.
Interviews
First interviews expected: 14 July on Microsoft Teams.
Second interviews expected: 23 July on Microsoft Teams.
About us
Arthritis causes pain, fatigue and isolation for 17.8 million people in the UK every single day. It can impact on the ability to work, our relationships and take away our independence. We don't accept this.
We are Versus Arthritis. We are volunteers, healthcare professionals, researchers and friends, all doing everything we can to push back against arthritis. We're reaching out to everybody with the information and support they need, funding vital research and changing the way society sees arthritis. Together we'll keep running, researching, influencing, volunteering, advising, chatting, baking, listening. We won't stop until no-one has to tolerate living with the pain, fatigue and isolation of arthritis. 
To achieve our ambition to ensure that one day no one will live with the pain, fatigue and isolation that arthritis causes, we want to be accurately reflecting the UK's diverse population. Currently 44% of our workforce are disabled or have a long-term health condition and 38% of our workforce have a direct relationship with arthritis. We are a Disability Confident Committed employer with an action plan to become Disability Confident Leaders soon.
We also are proud to offer working environments, technology, spaces and practices that foster our 'Flex' principles of collaboration, flexibility, inclusion and wellbeing and all colleagues have access to our Employee Assistance Programme.
We are committed to becoming an anti-racist charity and we welcome applications from a broad range of ethnic groups.
Read more about what we do, working for us and what we offer.
Happy to Talk Flexible Working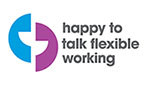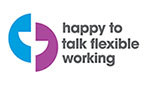 Promoting equality in the workplace.
Versus Arthritis is a Registered Charity No: 207711 and in Scotland No. SC041156.