Relationship fundraising manager
Location: Flexible: London or homeworker
Hours: Full-time 35 hours per week
Salary: £41,135 (London), £37,577 (rest of UK)
Home Working Allowance: £390pa – pro-rata
Benefits: Read more about what we offer
Contract type: 12 month fixed-term
Travel: Some travel to London office, occasional travel to meet fundraising groups and support events
Closing date: 28 June 2021
Download the job description and person specification for the Relationship Fundraising Manager role (PDF, 219 KB).
Summary
Versus Arthritis exists to push back against arthritis stealing people's lives. We challenge the most common misconceptions about arthritis: that it is inevitable, only affects older people, or that it's 'just a bit of arthritis'. We believe that the 10 million people living with arthritis have a fundamental right to live independent and rich lives, whatever their age and their circumstances – and we won't stop researching, campaigning and supporting people until we've achieved it for everyone.
The Mass Market Fundraising (MMF) team is at an exciting stage: we're in year two of our five-year strategy and have achieved some great wins in year one. Rather than work in income stream silos, we split our activity based on our audiences' communication and stewardship needs. In the Supporter Engagement team, we use relationship-building engagement tactics and tools to reach new people and build strong relationships with our supporters, which in turn drives income and higher levels of engagement with the charity. The breadth of the work means that no two days are the same as we work across different income streams and products.
About the role
The Relationship Fundraising Manager grows income and maximises long-term engagement through excellent stewardship of a portfolio of engaged senior fundraisers and volunteers. This role supports fundraisers and donors across different income streams who require more bespoke support because they are more committed, raise more or undertake larger-scale fundraising. The post holder will also lead on building a plan for acquisition of new local companies, groups and individuals, valuing prospects for their financial contribution as well as their potential for long-term engagement with the charity. This will include working closely with our nations and services teams as we continue to encourage engagement of fundraisers, beneficiaries and other supporters.
The role manages two Mass Market Fundraising Assistants that support the work of the wider team, so the post holder will need to engage with the breadth of our work in order to provide direction to the assistants.
Key requirements
Experience working in a community and/or challenge events fundraising capacity.
Experience managing successful relationships with senior fundraisers and/or senior volunteers.
A strong track record of meeting targets and increasing income and donor numbers.
Experience managing budgets and reporting on financial and non-financial KPIs.
Experience of managing a team with a busy workload and competing priorities.
Ability to confidently represent the charity and communicate with a wide range of individuals, companies and groups- in person, in writing and on the phone / over videocall.
Ability to keep the supporters' best interests at the heart of decision-making, and handle sensitive and confidential conversations.
How to apply
a concise, up-to-date CV
along with a completed supporting statement (Word, 40.04 KB) demonstrating how you meet the key requirements set out in the job description and person specification for the Relationship Fundraising Manager role (PDF, 219 KB)
please include where you've seen this role advertised.
Email your completed application by 28 June 2021 to recruitment@versusarthritis.org.
Interviews
First interview expected: 5 July 2021 on Microsoft Teams.
About us
Arthritis causes pain, fatigue and isolation for 17.8 million people in the UK every single day. It can impact on the ability to work, our relationships and take away our independence. We don't accept this.
We are Versus Arthritis. We are volunteers, healthcare professionals, researchers and friends, all doing everything we can to push back against arthritis. We're reaching out to everybody with the information and support they need, funding vital research and changing the way society sees arthritis. Together we'll keep running, researching, influencing, volunteering, advising, chatting, baking, listening. We won't stop until no-one has to tolerate living with the pain, fatigue and isolation of arthritis.
Join us and use your skills, knowledge, passion and energy to help us defy arthritis.
Read more about what we do, working for us and what we offer.
Happy to Talk Flexible Working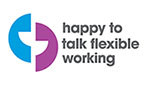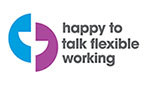 Promoting equality in the workplace.
Versus Arthritis is a Registered Charity No: 207711 and in Scotland No. SC041156.