Senior Awards Operations Officer
Location: Flexible – Chesterfield, London or home worker
Travel: Limited travel to our London/Chesterfield office
Hours: Full-time 35 hours per week
Salary: £32,492 per annum London, £29,391 per annum rest of UK/home-based
Benefits: Read more about what we offer
Contract type: Maternity Cover: 12 months August 2021 – July 2022
Closing date: 3 August 2021
Download the job description and person specification for the Senior Awards Operations Officer role (PDF, 115 KB).
Summary
Supporting and working closely with the Awards Operations Manager, this role is pivotal in developing and delivering processes to support the delivery of the charity's funding schemes and the pro-active management of the Versus Arthritis charitable activity investments.
The role will build relationships across the charity and support award activity in a practical way, ensuring continued consistency and rigour throughout.
About the role
This role will focus on three key areas:
Awarding activity – supporting colleagues across the organisation in the management of the awards process.
Portfolio management – supporting the management and oversight of the charity's awards including budget expenditure, evaluation and reporting.
Development – working with others to develop fit for purpose systems and processes and supporting others in their use.
Key requirements
Good level of education with evidence of necessary skills through training and/or experience.
Knowledge or experience of funding and award-making within the third sector or academic research office environment.
Experienced facilitator who can confidently guide groups and manage challenging behaviour to achieve agreed aims of a meeting.
Knowledge of the awarding peer review process.
Good information technology skills, including Microsoft Office and previous experience of working with databases, including data analysis and reporting.
Excellent interpersonal and communication skills and flexible, customer-focused approach.
Efficient and well-organised, with the ability to manage multiple projects, prioritise and meet demanding deadlines.
Well-presented diplomatic, flexible and able to adapt to new ideas.
How to apply
To apply you MUST submit:
a concise, up-to-date CV
along with a completed supporting statement (Word, 44.04 KB) demonstrating how you meet the key requirements set out in the job description and person specification for the Senior Awards Operations Officer role (PDF, 115 KB).
please include where you've seen this role advertised.
Email your completed application by 3 August 2021 to recruitment@versusarthritis.org.
Interviews
First interviews expected: 12 and 13 August 2021 on Microsoft Teams.
About us
Arthritis causes pain, fatigue and isolation for 17.8 million people in the UK every single day. It can impact on the ability to work, our relationships and take away our independence. We don't accept this.
We are Versus Arthritis. We are volunteers, healthcare professionals, researchers and friends, all doing everything we can to push back against arthritis. We're reaching out to everybody with the information and support they need, funding vital research and changing the way society sees arthritis. Together we'll keep running, researching, influencing, volunteering, advising, chatting, baking, listening. We won't stop until no-one has to tolerate living with the pain, fatigue and isolation of arthritis.
Join us and use your skills, knowledge, passion and energy to help us defy arthritis.
Read more about what we do, working for us and what we offer.
Happy to Talk Flexible Working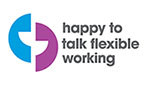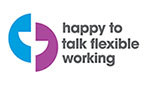 Promoting equality in the workplace.
Versus Arthritis is a Registered Charity No: 207711 and in Scotland No. SC041156.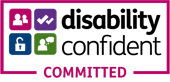 Promoting and supporting diversity in the workplace