People development manager
Location: Flexible: London, Chesterfield or home-based
Hours: Full-time, 35 hours per week
Salary: £43,000 per annum (London office-based), £39,000 per annum (rest of UK)
Benefits: Read more about what we offer
Contract type: Permanent
Travel: Some travel to the London and Chesterfield offices required
Closing date: Monday 6 December 2021
Download the job description and person specification for the People Development Manager role (PDF, 561 KB).
Download additional background information for candidates (Word, 62 KB).
Through our Diversity and Inclusion Strategy, we have made a commitment to increase the diversity of our charity and we welcome candidates from a wide variety of backgrounds and experiences. We want our employees, volunteers and trustees to represent the broad diversity of the communities of which we are a part.
Summary
In this role, you'll inspire our staff and volunteers to do their best in their roles, and equip them with the skills and knowledge they need to make a difference in the lives of people affected by arthritis.
We're looking for a senior leader of Learning and Development, with skills and experience in leading organisational and cultural change, understanding of Learner Management Systems and a track record of delivering engaging, memorable and effective learning solutions. The successful candidate will join our Organisational Development team which sits within the People and Organisational Directorate.
About the role
You will lead the development and implementation of a Learning and Development offer which is strategically aligned, flexible, inclusive and effective. The successful candidate will lead cultural change towards self-directed, self-serviced and sustainable learning and development at Versus Arthritis, where individuals are motivated and empowered to progress in their careers and roles.
You will lead the development of a learning and development offer which is integrated across staff and volunteers, creating a sense of community across the two audiences, underpinned by co-creation and representation of existing and under-represented audiences, so everyone feels Versus Arthritis is for them.
Key requirements
Experience of scoping, designing, delivering and managing blended learning and development initiatives.
Experience of leading, managing and developing a high performing team of staff or volunteers.
Experience and understanding of Learner Management Systems.
Strong and effective communicator and facilitator, with the ability to engage stakeholders.
A flexible, pragmatic and creative approach, redefining problems in light of information gathered or changes in context.
How to apply
To apply you MUST submit:
a concise, up-to-date CV
along with this completed supporting statement form (Word, 43 KB), demonstrating how you meet the key requirements set out in the job description and person specification for the People Development Manager role (PDF, 561 KB)
please include where you've seen this role advertised.
Email your completed application by Monday 6 December 2021 to recruitment@versusarthritis.org.
We advise candidates to apply early as we reserve the right to close applications ahead of this date. Only shortlisted candidates will be contacted.
Interviews
First interviews expected: 14 or 15 December 2021 on Microsoft Teams
Second interviews expected: 20 December 2021 on Microsoft Teams or at our London office
About us
There are 18.8 million people living with a musculoskeletal (MSK) condition like arthritis in the UK. Arthritis causes pain, fatigue and isolation for more than 10 million of those people every single day. It can impact on the ability to work, our relationships and take away our independence. We don't accept this.
Versus Arthritis exists to push back against arthritis stealing people's lives. We challenge the most common misconceptions about arthritis: that it is inevitable, only affects older people, or that it's 'just a bit of arthritis'. People with arthritis have a fundamental right to live independent and rich lives, whatever their age and their circumstances. We won't stop researching, campaigning and supporting them until we've achieved this for everyone.
Join us and use your skills, knowledge, passion and energy to help us defy arthritis.
Read more about what we do, working for us and what we offer.
Happy to Talk Flexible Working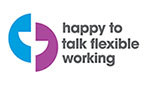 Promoting equality in the workplace.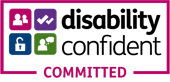 Promoting and supporting diversity in the workplace.
Versus Arthritis is a Registered Charity No: 207711 and in Scotland No. SC041156.