Joint Replacement Support Package

No one waiting for joint replacement surgery should be left unsupported and struggling in unbearable agony.
As waiting times for joint replacements continue to rise, it's vital that everyone with arthritis waiting for surgery has access to support to manage their pain and distress, alongside improving health and wellbeing.
We asked those waiting for joint replacements to tell us what would make a difference to them. This highlighted the importance of getting the right support to manage pain, physical health, wellbeing and finances, as well as the need for good communication from health professionals.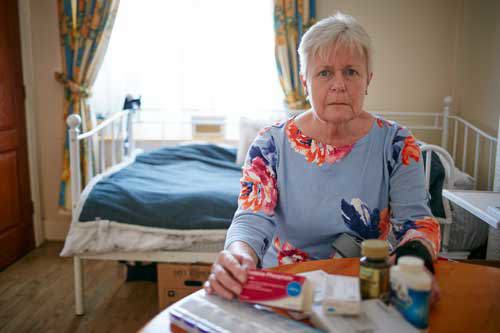 "Before arthritis I worked a busy job in London and was active too. But in less than six months I became immobile because of the pain in my hips. I can just about walk from the sofa to the bathroom in my house, otherwise I can't move. It's like standing on jagged glass. I haven't left my house for a year now, apart from going to my hospital appointments. I've been told I'm definitely still on the waiting list for surgery, but they can't give me any indication of a timeline. They just leave you hanging, thinking what am I going to do with my life?" - Brenda, 61, is waiting for a double hip replacement.
We have developed a six-point package that we want local health systems to provide to those waiting for joint replacements. This is not intended to be a substitute for joint replacement surgery, but an important resource to ensure patients receive the holistic care and support they need while waiting for their operation.
Local health systems must provide a joint replacement support package:
Clear communication to be provided to people about when they can expect to have their surgery and receive the care and services they need in the meantime.
Personalised self-management support to be provided to help people with arthritis manage their pain while they wait for surgery.
Physical activity programmes designed to help people with arthritis stay active and prepare for surgery should be actively promoted.
Mental health support to be offered to help every person with arthritis to manage their pain and any associated depression and anxiety.
Signposting to financial support and advice to be provided for people with arthritis in work or seeking work.
COVID-19 recovery plans to address the specific needs of people with arthritis.
To find out more, download the Joint Replacement Support Package here (PDF, 753 KB).
Campaign with us across the UK
We're campaigning to improve joint replacement waiting times and access to support across all UK nations.
We are calling on politicians across UK parliaments to ensure everyone waiting for joint replacement surgery has access to all the help, care and information they need. Find out how our campaigning is having an impact.