Our vision for volunteering
At Versus Arthritis, our volunteers are a vital part of our community of people defying arthritis. Our volunteers work alongside employees to make a difference for people with arthritis and are central to everything that we do.
It's important to us that we engage with people who have lived experience of arthritis – this helps us make sure that people with and affected by arthritis are involved, visible partners in our work.
We also believe that volunteering can be a key part of people's self-management and can help them live well with their condition.
Below, you can learn more about the principles that guide us in involving and supporting our volunteers.
Who are our volunteers at Versus Arthritis?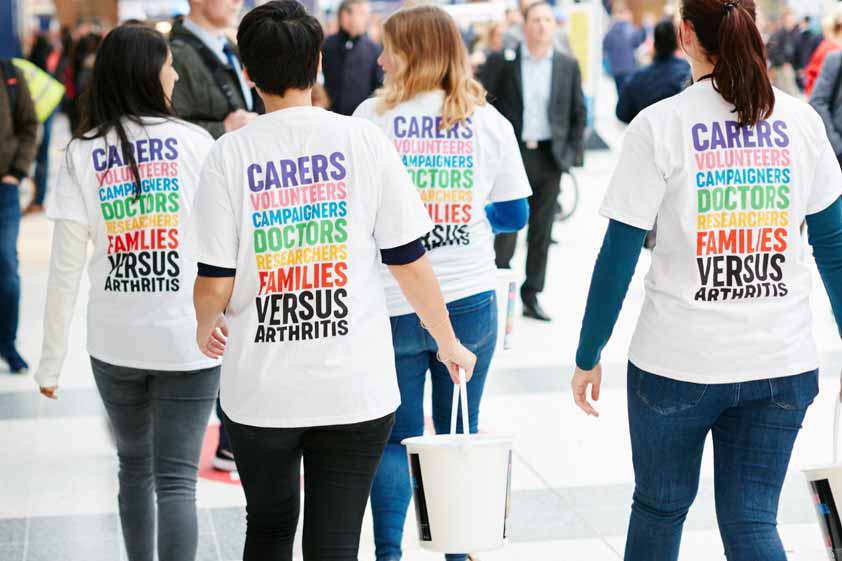 When we talk about volunteering, we mean activities that people do without payment to help us reach our ambitions.
When we talk about volunteers, we mean people who work:
together with us or on our behalf
freely and by choice
to benefit either people with arthritis or our organisation
without financial gain
in a one-off activity or on a longer-term or regular basis, regardless of how much time they spend
in our offices, in community locations or at home
in any part of our organisation, including our Board of Trustees.
Our commitment to our volunteers
We are committed to ensuring that our volunteers have the best possible experience with us. We want to make sure that people feel fulfilled, valued, and clear about the many opportunities available.
We're also committed to offering flexible opportunities so that our volunteers are just as diverse as the community of people with arthritis in the UK.
How we support our volunteers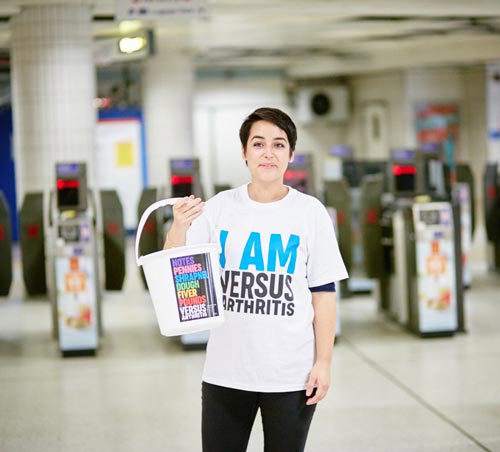 We know that there are costs associated with volunteering. That's why we make sure that we have adequate resources available to support our volunteers and their development. This includes paying reasonable expenses and investing in training that develops our volunteers' knowledge and skills.
Our People team and our Involvement team are also here to help – they provide advice and guidance to everyone at Versus Arthritis on ensuring that volunteers are represented in everything that we do.
How we work with our volunteers
We want to empower people with arthritis to have a say about their condition through volunteering. That's why we are committed to creating and sharing opportunities with people with arthritis. We also:
organise our volunteering to make the most of people's gift of time and expertise
recognise and celebrate our volunteers' contributions
tell our volunteers about the real difference they're making in people's lives
work closely with our volunteers when we review roles
co-design and co-deliver our work with our National Volunteer Engagement Groups.
What you can expect from us when you volunteer
We want to make sure that our volunteers enjoy their roles and get the most out of what they do. We commit to:
treating our volunteers with respect, consideration and appreciation
following our values and behaviours
making sure volunteers understand their responsibilities and our expectations, including the length of time we'd like them to be involved in a project
providing training, personal development and support
making sure our volunteers are insured and operating in a safe environment
paying expenses for activities our volunteers carry out on our behalf
providing reasonable adjustments so that all people living with arthritis and other disabilities can volunteer with us
support our volunteers through regular meetings or discussions
offer fair, honest and timely feedback on volunteers' work
inform volunteers about about our work and how they can join in
recognise and celebrate our volunteers' contributions
provide both employer's liability and public liability insurance.
Versus Arthritis is committed to creating an open and transparent culture for our volunteers. We want you to know that we encourage accountability and that you can trust us to take whistleblowing concerns seriously. For these reasons, the charity has decided to extend all whistleblowing protections not only to Versus Arthritis staff (a legal requirement) but also to all our volunteers. Therefore we would encourage you to look at our Whistleblowing Policy (Word, 1 MB) and to familiarise yourselves with this document. If you have any concerns please let us know by contacting our whistleblowing officer, or any of the designated whistleblowing trustees.
What we ask of you when you volunteer
We also have high standards for our volunteers. When you volunteer with us, we ask that you:
treat everyone at Versus Arthritis – including employees, supporters and fellow volunteers – with respect, consideration and appreciation
follow our values and behaviours
make a positive contribution and avoid doing anything that could harm our reputation
never discriminate against anyone or exclude anyone
let Versus Arthritis know as soon as possible if you cannot fulfil your volunteering commitment or no longer want to be part of a project
comply with our policies and guidelines
ask your contact at Versus Arthritis for guidance if you don't fully understand your role or responsibilities
collect and provide data where it's required, such as within our services, so that we can share the impact of our work together.
Want to know more?
For more guidance, support and useful resources, please get in touch with our Involvement and Volunteering team on volunteering@versusarthritis.org. If you are already a volunteer, please speak to your manager – they are here to help.