London residential weekend (September)
London residential weekend (September)
When: Friday 18 September 2020 and Sunday 20 September 2020
Time: 6.00 pm and 4.00 pm (for specific times see below)
Venue to be confirmed.
Friday 18 September at 6.00 pm and Sunday 20 September at 4.00 pm.
Our Young People and Families Service run several residential weekends across the UK, where young people from the age of 11-18 years have the opportunity to meet others who really understand their condition.
Each weekend is different, in the past we have done rock climbing, graffiti art, canoeing, archery, crafts… We know you are not defined by your condition – our events are about having fun too.
These weekends away also provide great opportunities to get to know our young adult volunteers who have grown up with arthritis or a similar condition, take part in new activities that you might not have tried before, as well as learning more about your health condition and ways of looking after yourself by sharing tips and ideas with each other. Mostly it's a chance to have fun and meet new people!
"It is really comforting knowing that you are not alone in what you are experiencing and feeling. Not to mention the support network of friends who I wouldn't have met without the weekend breaks."
What can I expect?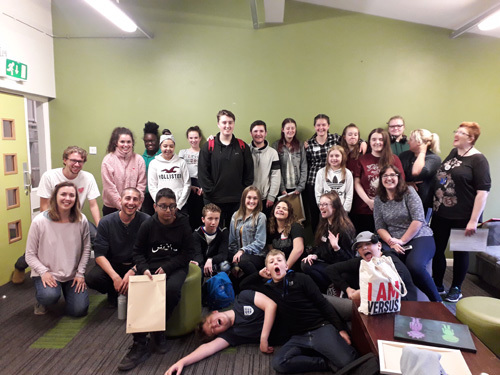 Our residential weekends usually run from Friday evening to Sunday afternoon and we provide transport from central locations.
Friday evenings are relaxed, giving everyone the chance to get to know each other and play some games.
On Saturday, the day begins with something like crate stacking (great for getting to know each other!) and then there will be a couple more activities in the afternoon. After dinner we might sit out by the campfire and have a go at making s'mores, with the option of some games or watching a film. This is a chance to rest and relax after the day's activities.
On Sunday morning, there will be time to fit in another activity, or maybe two, before a final lunch together.
Alongside all the activities, there's also lots of free time, where you'll have the chance to chill and chat to people.
Our weekends are usually at activity centres in the countryside. We have our own private area, and everyone stays together in small dormitories, with shared space for eating and activities. It's a great chance to get away and visit somewhere new.
Hear from some young people who have attended our residentials before to find out what they thought.
"This weekend has meant meeting loads of friends and trying new activities that I never thought I would do."
Want to find out more?
You can find out more about travel, accommodation, plans for the weekend and how to sign up to secure your place, by emailing us at ypf@versusarthritis.org.
We also host other events across the country, and in Scotland, Wales and Northern Ireland. All of our events are fully insured and run by qualified and experienced staff and volunteers, all with criminal record checks. Versus Arthritis is able to run this activity thanks to the generous donors who support us. Find out more and keep an eye on what's coming up in your area or contact us.
Find us
Address: London south, venue to be confirmed

Contact: Versus Arthritis, 0300 7900 400, ypf@versusarthritis.org

Find us
Address: London south, venue to be confirmed

Contact: Versus Arthritis, 0300 7900 400, ypf@versusarthritis.org