Young people in Scotland take control of their arthritis
26 October 2018
Living with arthritis can be tough whatever age you are, but across the UK thousands of young people are facing the pain, fatigue and isolation of arthritis while also dealing with the everyday challenges of growing up.
The Take Control programme is just one of the Young People and Families Services run by Versus Arthritis all over the UK. It supports and connects young people with arthritis and related conditions aged 10–18 from anywhere in Scotland. Working directly with around 50 young people each year, its online community currently has more than 80 members. Some young people are referred by healthcare professionals, others find the group themselves when searching for help, but the support is open and free to everyone who needs it.
The challenges for young people
Gill Meens is Versus Arthritis's service manager for young people and families in Scotland. She explains: "The real challenge all of our young people face is a lack of understanding of juvenile arthritis. At school and at home, with their peers, family and teachers, they encounter those common myths which make them feel like they're too young for arthritis.
"Bullying is a big problem. Children can be cruel, especially when someone is different. Our young people often have to miss school for surgery, hospital appointments or because they're unwell. That time out can affect their friendships and ability to fit in at school. It's hard enough for anyone of this age, when you're trying to be like your peers and to find out who you are, without having to juggle that with managing arthritis.
"We know people with long-term conditions are at greater risk of mental health conditions; that risk is heightened in young people. We're often working with young people who are dealing with a double stigma. We're here to help them manage both their physical and their emotional health."
The Take Control programme runs three one-day workshops each year focusing on personal development and self-management. They cover topics like managing pain, sleeping well, confidence building and communication. Young people are also invited to attend a residential weekend where they can take part in fun outdoor activities like kayaking, archery and mountain biking.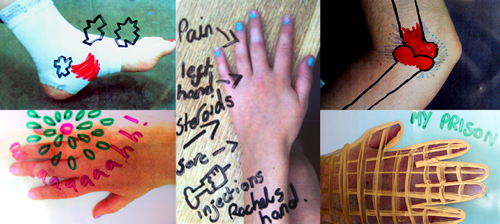 Joint Creativity project
One of the most innovative elements of the programme is the Joint Creativity project, which helps young people to express how arthritis affects them through art and drama. A series of art workshops culminate each year in a public exhibition of individual and collaborative paintings, drawings, photos and sculpture, called ARThritis, which in 2018 took place at Glasgow's Kelvingrove Art Gallery.
Watch this short film to find out more about the project:
The art sessions make it really easy to express who I am. They make me feel like I am having fun and not feel like I'm really sad inside. You're meeting people who understand what you're going through and you're not having to explain it. It fills me with hope that I may turn out like the volunteers and staff one day, that I will have a good future and be able to cope with arthritis.
Gill explains: "We've also developed a really positive online community through our closed Facebook group, where young people who take part in our events ask for advice, chat and share information about medication and what works for them. It can also be useful for anyone who needs a good rant! Social media is particularly important here in Scotland where many young people live in remote places and it's not so easy to meet up locally." Information on our events is available on our Too Young for Arthritis page.
Parents and carers can also get involved and are encouraged to share their experiences and get support from each other. Family sessions are run to share information and teach useful tools and skills. For example, when young people are taught relaxation, distraction and visualisation techniques to manage their pain, separate sessions are run for parents and carers to help them to practice at home.
Personal experiences
Gill was herself diagnosed with rheumatoid arthritis aged 19. She says: "I've experienced what it's like to be a young person with arthritis. Just after I was diagnosed, my Mum asked my rheumatologist if there was any support available and he said no. Hearing that was so isolating. I honestly felt like the only young person in Scotland with arthritis.
"At that age I was struggling to live how I wanted to and struggling to come to terms with my condition. If I hadn't eventually found a support network that understood what I was going through, I'd be in a very different place now. It was a revelation to know there were other young people with the same condition as me.
"These services are vital. They're about giving young people with arthritis a place to belong, a safe place where they can ask their questions and get honest answers. It's like a family."
Joint Potential
Scotland's Young People and Families service also works with 16–25-year-olds with arthritis. The Joint Potential programme runs residential weekends and one-day workshops designed to empower young people to live positively and successfully with arthritis, while having fun and meeting other people of their own age with arthritis. They focus on building confidence and self-esteem, relationships, change and positivity.
Joint Potential also works closely with clinics and hospitals to ease the transition young people face when moving from paediatric to adult healthcare services.
To find out more about Versus Arthritis services for young people and families, as well as for adults with arthritis, visit our Services and support information.