Jane's story: A day in the life of a helpline advisor
13 March 2019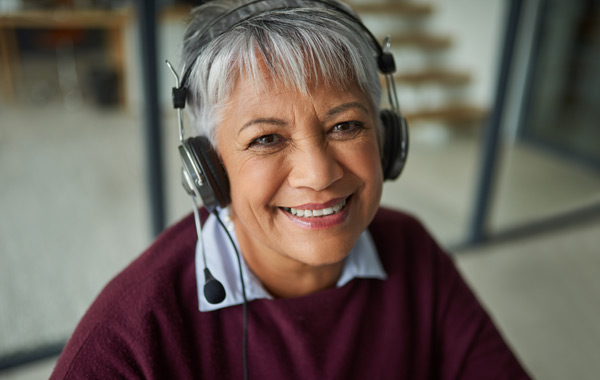 "When I'm working our busiest shift (9am–5pm) I get up early and start the day with a swim and a walk with my dogs. I'm here ready to take calls as soon as the helpline opens. There's no such thing as a typical day, every day and every call is different.
"Some questions are quick to answer, while others are complex and take longer to deal with. Whatever the question, we give people the time they need. We're here to listen and to help and always encourage people to come back to us if they need to.
"We get asked anything and everything. Luckily there's a huge amount of expertise we can draw on. Versus Arthritis is constantly funding new research, so we've got the most up-to-date information; everything new that we learn is passed onto people with arthritis.
"Calls can be about pain management, treatments, specific conditions, medication and side-effects, or the benefits system. Sometimes people call when they're newly diagnosed, others are waiting for surgery; they're all at different points in their arthritis journey. We do everything we can to find answers, sometimes signposting people onto other organisations that can help.
"I get a huge amount of job satisfaction. So many calls end with me being told thank you for listening. It's a great feeling when we find the answer someone is looking for and know it'll make a difference to their life. It can be hard when we talk to people in a lot of pain and understandably they get upset. It's frustrating when we don't have the answers. If medication isn't working or someone can't get a doctor's appointment we can't change that. We're always here to listen though and sometimes that's enough.
"We take a break from the phones before lunch to catch up with admin. We log each call and send follow-up information, as well as answering emails and social media posts. Then I spend my lunch hour walking into town to get fresh air and go to the shops.
"I answer calls all afternoon until 4.30pm when the team gets together to share new information and ask for help with challenging questions. What's brilliant about our services is that we learn so much from the people who contact us. The lives and experiences of our callers shape our answers and each one helps make our services even better. Every new answer we find doesn't just help one person, it could help thousands of people. In this job you never stop learning, every day you find out something new about arthritis.
"After work I spend time with family and by 9pm I'm ready to unwind with a book. I love my job because it's clear how massively important this helpline is. We're not judging or rushing our callers, we're interested and listening and dedicated to finding out the answers that will make a difference to their lives and to the lives of other people with arthritis."
If you have a question get in touch.