Coronavirus (COVID-19) and arthritis
12 April 2021

We'll be continually reviewing this content as the COVID-19 situation evolves across the UK and guidance changes over time. Therefore, it's important to check this page regularly for updates.  
Latest updates
Our COVID-19 content for England, Scotland, Wales and Northern Ireland has been updated to reflect the latest easing of restrictions.
In England, you can get free regular rapid tests if you do not have symptoms of coronavirus (COVID-19). Find out more about the rapid lateral flow tests on the NHS website.
COVID-19 vaccines and arthritis 
We're proud to be working alongside the NHS and other charities to help save lives through the vaccine roll out. People with rheumatoid arthritis, lupus, and people on certain medications are now eligible for the COVID-19 vaccine. Find out more about who's in the COVID-19 vaccine priority groups.
Read the most up-to-date answers to your questions about the COVID-19 vaccines.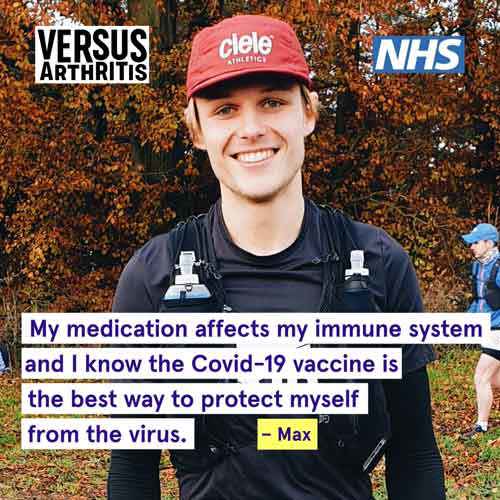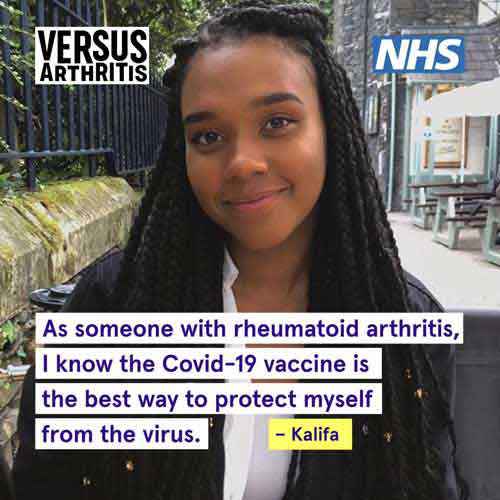 Protecting the most vulnerable
If you're being treated for an autoimmune condition it may increase your risk of getting coronavirus. Please check the guidance for 'extremely clinically vulnerable people' for where you live:
If you were originally asked to shield, you will receive more advice on how to further protect yourself, and the support available to you. 

For more detailed information and definitions of the different 'vulnerable' groups read Arthritis and COVID-19 - what are the risks?

If you're in the 'clinically vulnerable' group, you may more vulnerable to COVID-19 than the average person, but not as much as the people in the 'clinically extremely vulnerable' group. This is similar to the group eligible for the annual flu vaccine. The advice for people in this group is to follow social distancing advice and stay at home as much as possible.
Treatments and appointments during COVID-19
The pandemic has led to changes in scheduled surgery, treatment and appointments.
Learn more about preparing for surgery during the COVID-19 pandemic, including what to expect before, on the day and after an operation.
NHS England have also released guidance for healthcare professionals around good communication (PDF, 119 KB) to ensure clear, compassionate and timely communication with everyone impacted by delays to appointments and treatments.
Information and resources
Arthritis and COVID-19 - your questions answered These include making an appointment with your GP surgery, ordering prescriptions, more information about medication and arranging to have the flu vaccine, if you've not had it this year already.
Looking after yourself
Current advice for people with arthritis recommends that you should wash your hands regularly, practice socially distancing and stay at home as much as possible.
It's important to try to keep active, eat healthy and take care of your wellbeing. We've published these articles which include advice to help support you.
We're here for you
Whether you're self-isolating at home, supporting loved ones or caring for those in the community, we'll continue to stand by, support and speak up for people living with arthritis.
Call our free Helpline on 0800 5200 520, or email helpline@versusarthritis.org (Mon-Fri 9am – 8pm), talk to COVA, our COVID-19 virtual assistant, 24/7, or connect with others on our online community.
Sign up to our newsletter to get regular updates on our services, support and our latest coronavirus resources.
Sign up
Due to the coronavirus, people living with arthritis are relying on our services and support more than ever.
Donate now