Arthritis Tracker: staying on track with notes
03 December 2020

Since we launched the Arthritis Tracker , we've been working hard behind the scenes to make improvements.
Many of you who've downloaded the app have used the "feedback" option on the app to share your ideas for how we can improve the app.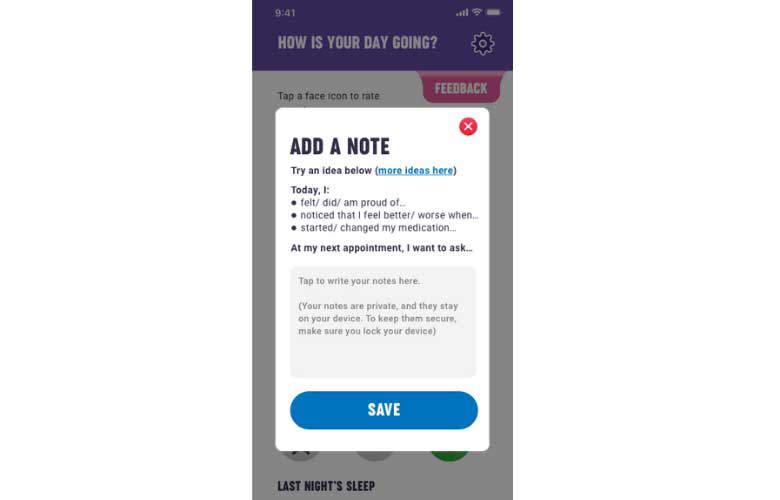 Thank you to everybody who reached out and requested the ability to add notes about your day. We've listened and this feature is now available in the app. (Keep reading to the bottom to find out what other improvements we have planned).
To get started, just scroll down to the bottom of the "Today" screen and you'll see the new "Add a Note" button.
There's lots of ways that you can use the notes feature, from keeping a diary about how you've been feeling, to using them as reminders for later on. Here's some ideas to get you started:
How are you feeling?
You can use the notes feature to put down some thoughts on how you are feeling or the symptoms you are experiencing. These can be brief reminders, like these below:
Today I've been feeling quite anxious, so I went for a walk.
My right knee is really swollen today, but it's not been too sore thankfully.
My stomach has been playing up today. One of the worst days in a while ☹
What makes you feel better?
You can use the notes to keep a diary of things that make you feel worse or better. Here's some examples:
I've noticed that I feel better on the days when I go for a walk. Just need to try and stay motivated!
Yesterday I spent over 5 hours on my feet, and today I am paying for it! Oops..
My joints always seem to flare up after I have a few nights in a row of bad sleep. Starting to realise that getting to bed on time might be more important than I realised..
What are your big or small wins for the week?
You can record important milestones and achievements in the notes, big or small they are all important. For example: Today I'm proud of myself, because it was raining all day and I still went out and got my steps in. 😊
Today I talked to my friends about my arthritis, and I explained to them how it affects me, how I have good days and bad days etc. I was so nervous, but now I don't know why... they were so nice, and I'm so glad I don't have to make up excuses anymore when I am having a bad day.
What do you want to mention at your next appointment?
It's hard to keep in mind what questions you want to ask when you next see your doctor or rheumatology team. When you do think of any questions, make a note and these will be there for when you need them. Like these ones below:
At my next appointment, I want to ask about what other options there are for my medication and talk about the problems I've been having with this one.
At my next appointment, I want to ask about what I can do when my hands get sore after typing for so long.
Remember key dates in the past
Keep a note of changes to your treatment plan, or information that you might be asked to remember in future.
Medication Update: The doctor increased my Methotrexate dosage today to 25mg. (Keeping a note in case I need to remember the date it changed)
Had my blood test today.
Our future plans?
We have lots more exciting plans for Arthritis Tracker in 2021, including the addition of a body map, so you can track exactly where you are sore more quickly and easily.
We'll also be adding the ability to track/ edit previous days, and other improvements, so watch this space.
How to download the app
Arthritis Tracker is available to download for free for iPhone on the Apple App Store and for Android on Google Play. 
The app is designed for teens and young adults, however many adults are finding it helpful too. If you have a question about the app, or feedback you would like to share, email us at apps@versusarthritis.org.
Our services
If you or a family member under the age of 25 has arthritis, our Young People and Families services is here to support.
Our service offers advice on how to live well with arthritis, medication and potential treatments, as well as creating a safe space to ask questions, receive information and develop support networks.
Our face-to-face services have changed during COVID-19, but you can find out more about what's going on via your local Young People and Family service.
We're here for you
If you're feeling isolated from family and friends during these uncertain times, we're here for you.