A year of COVID-19: supporting each other
23 March 2021

Whether you've been shielding, juggling home schooling, working from home, supporting loved ones or caring for those in the community, we've all had our lives impacted by COVID-19.
In March 2020, COVID-19 was declared a pandemic by the World Health Organisation and since then it's been a tough time, especially if you and your loved ones are living with arthritis.
Despite the challenges of these unpreceded times, we've come together to support each other and continued to make change happen.
Influencing government across the UK
Tens of thousands of you have made your voice heard – from signing petitions or writing to politicians, to telling us and national press, radio and TV about your experiences of shielding, the impact of cancelled appointments and disruption to treatments due to the pandemic.
One of our campaigners, Rob talked about the impact of waiting for knee replacement surgery in parliament: "I have had to give up my job, I have pain walking and sleeping, and no medication has helped whatsoever. My life feels on hold and it's extremely frustrating." Read Rob's story.
And over 30,000 of you have signed our Impossible to Ignore petition calling on UK governments to address the backlog of people waiting for joint replacement surgery.
We're pleased to share that the government has allocated an additional £6.6 billion for the NHS, and they've committed to allocate some of this to tackling the backlog in elective surgery - including joint replacement surgery.
In addition, we're working with NHS England and Improvement (NHSE/I) to shape the principles for recovering services for people with arthritis and MSK conditions through the "Best MSK Health Programme".
We will continue to put pressure on UK governments to make sure those waiting in pain get timely access to treatment, communication and support.
Raising your concerns with the NHS
Thank you for your questions, comments and stories on our online community, through our helpline, COVA, the Covid-19 virtual Assistant, Twitter, Facebook and Instagram channels.
When we received questions from our community about eligibility for the COVID-19 vaccination,, we worked with other organisations to develop a decision support tool for the COVID-19 vaccine (PDF, 488 KB).
We raised the concerns of people with conditions such as lupus and rheumatoid arthritis, as Cohort 6 eligibility for this group was based only on medications listed in GP records, and not by the conditions themselves.
The criteria has now been expanded to include these groups. Thank you to Kalifa and Max for joining us to spread the word about this alongside the NHS and a coalition of other health charities.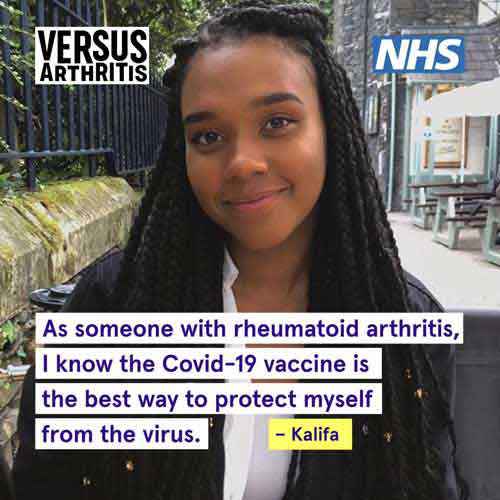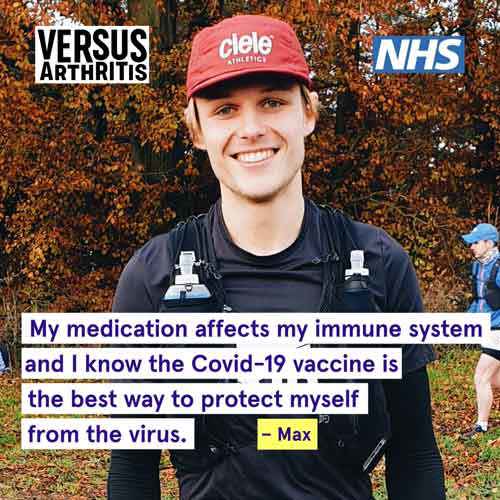 Sharing your experiences
Your stories and experiences have been a support to others and let people know they weren't alone.
Ian has psoriatic arthritis and in April 2020, he told us how it felt to be shielding:
"On top of my work, the family side of things quickly became a challenge. I live with my wife and all the children have moved out...We noticed very quickly that relationships changed, and our day-to-day connections were gone." Read Ian's story.
"It's an anxious time for everybody but being in a high-risk group can feel even more so, especially with all the uncertainty." Jasmine, 20, lives with juvenile idiopathic arthritis and shared her experiences of shielding.
By working together with organisations such as the British Society of Rheumatology (BSR) and the Association of Research Managers and Administrators (ARMA) we've been able to lead the way and develop our COVID-19 resources to give you the support you need during these uncertain times.
Porscha and Bobbie, together with others like you, have shared how COVID-19 has impacted your life, how you were adjusting and what was helping you in your daily life.
"I make sure that I go for a short walk every day after work if I am not sore or fatigued. Exercise helps me a lot. Without this it, my body is a lot stiffer and harder to shift in the morning." Read Porscha's story.
Bobbie shared her quarantine routine with the Metro. "My sister goes out to the supermarket to do the food shopping. She's the only person in our family who goes out, so we can try and keep me shielded. She wears a mask and showers as soon as she gets home, and she tries to keep two metres distance from me."
We listened to your concerns and questions about COVID-19 and developed resources to help you manage your pain, look after your wellbeing, young people and to support you at work.
Your advice has made such a difference to others
"During the pandemic and the first lockdown not only did gyms close, but I was physically unable to do anything.
I was struggling to walk let alone anything more active, then I found an Instagram account where they showed chair yoga. I started doing the slowest stretches a couple of times a day. It was agony but I felt I was doing something." Ananthi was diagnosed with seropositive rheumatoid arthritis (RA) in June 2020. Read Ananthi's story.
We've seen this through our Let's Move Facebook group where people have been sharing how they've kept active in lockdown and shared how they're getting on with our 12-week exercise programme Let's Move with Leon.
Although our face-to-face services had to go on pause, we adapted our services online to help support you including online tai chi classes and virtual coffee mornings. Thank you to our volunteers across the UK for their commitment to these programmes.
Committed to research
We're also proud of the commitment of our research community who have continued to play a vital role to help better understand COVID-19 and help to develop treatments.
Together with the The Kennedy Trust for Rheumatology Research we're jointly funding research by King's College London to better understand the role of the immune system in post-viral fatigue experienced by people who have had COVID-19.
Using our Anti-TNF research, studies are looking at immune cell changes during or after COVID infection to help understand the impact of the virus and develop better treatments in the future.
Our research has helped us to make life-changing breakthroughs and improve the lives of millions of people with arthritis. Together we've achieved so much, and we're committed to do more to improve knowledge and treatments.
Thank you
The voices of people with arthritis throughout this pandemic has placed arthritis firmly on the agenda as decision makers look at impact of COVID-19 and what could be done different in the future.
You've been a crucial part of shaping our influencing work, and your stories have been our most effective tool in pushing for real change. We would like to thank you for making yourselves heard.
We're here for you
If you are feeling anxious or worried about COVID-19, you are not alone.
If you would like to talk to someone, you can call our free helpline on 0800 5200 520 (Monday to Friday, 9am to 8pm).