Versus Arthritis at Party Conferences
17 October 2022

Party conferences are a key point in every political party's calendar. They're a time when elected politicians and local party members come together to discuss their party's priorities and direction of travel over pressing policy issues.
They also provide charities and other stakeholders a key opportunity to raise with policymakers the issues that matter to the people they represent. 
Over the last three weeks, Senior Leadership Staff and members of the Policy, Public Affairs and Engagement team attended the Labour Party, the Conservative Party and Scottish National Party's annual party Conferences. 
We spoke with Government Ministers, politicians and other stakeholders about the challenges facing people with arthritis and musculoskeletal health conditions.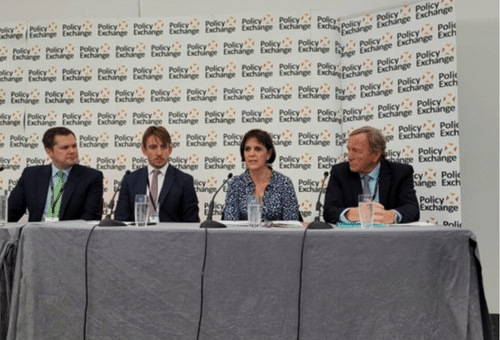 Improving the NHS
The highlight of our work this year was an event we ran at Conservative Party Conference in partnership with the think tank Policy Exchange, The Royal College of Surgeons and the Independent Healthcare Providers Network. It was entitled: 'On the Side of the Patient: What are the Conservative Party's plans to improve the NHS?'.
One of the few events to secure Ministerial attendance from the new Health and Care Minister Rt Hon Robert Jenrick MP, this event gave our new CEO Deborah Alsina an opportunity to highlight the issues people waiting for joint replacement experience.
Deborah made it clear to the Minister that tackling the backlog of treatment needed to be a Governmental priority and done equally so that health inequalities around the country were not exacerbated.
She also pushed the Minister on a fully costed workforce plan for health and social care, and the protection of orthopaedic capacity in hospitals to prevent disruptions to joint replacement surgeries caused by winter pressures.
Raising the issues that matter
Another key element of party conference season is the opportunity it provides to meet with MPs and other key policy makers.
At Conservative Party Conference, Deborah met with Tom Randall MP, one of our arthritis champions, Pfizer's Senior Director Richard Maughan, and President of the Royal College of Surgeons Neil Mortenson. Whilst at Labour Conference our Director of Services & Influencing Zoe Chivers had a productive meeting with Shadow Leader of the House of Commons, Thangam Debbonaire.
At Scottish National Party Conference in Aberdeen, Lauren Bennie, our new Head of Nation in Scotland, and Alan McGinley, Policy and Engagement Manager, were in attendance.
Away from the pressures of parliament, this provided a space to discuss the issues that matter for people with arthritis with MSPs, ministers and advisers.
From the event we have secured meetings with key stakeholders on a range of important issues.
Cost-of-living crisis
A theme we were also keen to engage with all the political parties on at conference was the cost of living, which is an issue affecting everybody and especially people with arthritis.
Thank you to our supporters who responded to our recent survey on what people affected by arthritis think about the rising cost of living, which we have fed into this campaigning.
An overwhelming 94% of you told us that the cold makes your or someone you know's condition worse, and nine in ten (92%) of you are worried about the cost of heating your home this winter.
We had important conversations with other charities on the impact these costs are having, how together we can support people most in need, and how the government and all political parties can work together in this pursuit.
Party Conference provides a unique opportunity to influence on behalf of people with arthritis and musculoskeletal conditions. The engagement and relationships built in this period will ensure we can see the changes needed for our community.