"Don't ever count yourself out": Lorna, who lives with rheumatoid arthritis, claims bronze at Crufts
18 May 2023

Lorna, 31, who has rheumatoid arthritis, made her debut at Cruft's this year, the world's biggest dog show. Despite being a first-time dog owner, she clinched bronze in the Freestyle Heelwork to Music category. 
Here she shares how her dog Nora has been an unwavering companion and how setting small goals helps her cope with pain.  
Diagnosed with rheumatoid arthritis  
Like many people with rheumatoid arthritis, Lorna first experienced symptoms in her feet. "It felt like you had walked too far and the next day your feet hurt," she explains. "I thought that it will get better, that it'll just take a few days' rest. But it didn't. It kept getting worse and eventually I was in a wheelchair." 
In January 2019, Lorna went for x-rays and tests and was given a diagnosis: rheumatoid arthritis. It was a relief to finally have some answers and soon she was put on a dose of steroids. Nowadays, Lorna says she still experiences pain, but copes better now that she's on the right medication for her. 
Meeting Nora, her canine companion  
Lorna got a border collie called Nora shortly after the pain started in her feet and before her diagnosis.
"Nora really helped me," she says. "She gave me a purpose to get up in the morning".
Border collies are, by nature, active dogs, which was perfect for Lorna. "I had to get up and let her outside," she says. "So that involved getting out of bed, getting downstairs, getting her out."  
"With arthritis, movement helps so much. So, the first thing I do when I get up in the morning is go for a walk with Nora." 
Having grown up with horses, Lorna has always been passionate about training animals. She tried agility training but soon realised that "when you can't run and tight turns send a flare-up through your knees, agility is maybe not the right sport for you." 
Later, she gave Heelwork to Music a go and she was immediately hooked. This is a type of dog sport where you choreograph your own dance routine to any music you like. You then train your dog all the moves it needs to perform the routine together. If you have done it right, it should look like you and your dog are dancing.
"There are no set moves," Lorna explains. "You don't have to do a rollover. The whole point is the dog should do more work than the handler. So having limited mobility doesn't set me at a disadvantage." 
Setting goals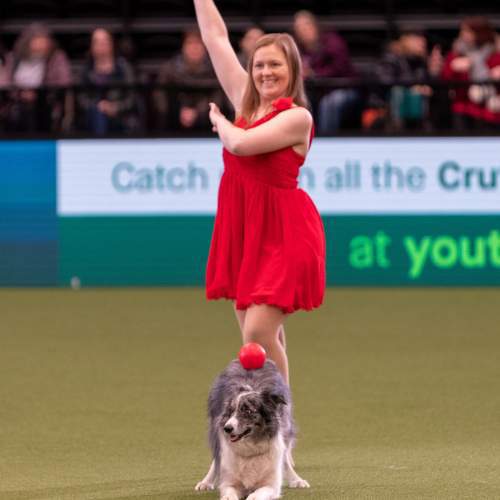 Lorna says that having a dream to work towards has helped her cope with her symptoms. 
"When you get diagnosed you think, 'I've got a diagnosis, it's not something that can be cured. So, what now? I thought, 'What do I enjoy? I love training and I love dog dancing. What can I do with that? Let's go to Crufts.'" 
Lorna then started setting herself small goals and slowly worked through the ranks. 
Pacing and adapting physical activity  
Lorna says that Heelwork to Music was the perfect sport because she can pace herself.
"I can get up and do 5-10 minutes, stop again, get up a few hours later, do it again for a few minutes, and stop again."  
As well as taking breaks, Lorna also adapts the physical activity to suit her. "When I choreograph my routines, I have to be aware of my limitations," she explains. 
"I remember trying to do a common move in the sport. I taught Nora it in two days but realised I couldn't put weight on this arm as required as it would cause me a lot of pain. So, I just scrapped the move." 
Emotional support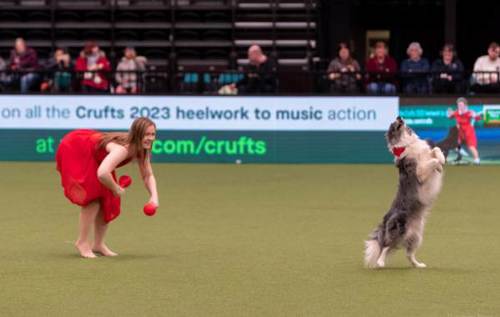 Like many dog owners, Lorna says that Nora doesn't just keep her physically active, she also offers emotional support.  
"You can't play and train without having fun," Lorna says, as Nora passes her a chew toy. 
"If I'm sitting here in pain, I'm sure she can sense that. That's why she'll bring me a toy and be like 'Come on, let's go'." 
Besides Nora, Lorna says that her mum is her biggest supporter. She supports her and comes to every competition, both because she enjoys watching but also wants to to help when Lorna's having a flare-up.
"Having that one person that you can go to is really important, even if it's not family," Lorna says.  
The road to Crufts
As a first-time dog owner, Lorna says she went to Crufts not expecting to come third.  
"I was going out almost to prove to myself that I could do it"
"I wanted to show that, even though I can't do everything that everyone else can, that's not going to stop me from competing against them," she says. "It's all about the hard work you put in, rather than the limits that people are defining you by." 
"I also wanted to show how amazing Nora was because she helped me through this really hard time. So, I really do owe her my life in a way." 
When asked what advice she would give to other people diagnosed with arthritis, Lorna says not to let it hold you back. 
"Don't let your diagnosis define you," she says. "I'm always going to be the person who was diagnosed at 27 with arthritis. I can't change that. But I can change the ending of that story." 
Next steps
So, what's the next chapter for Lorna? Next year, she has her eyes set on gold. 
"I'm going to keep aiming big," she says. "I'm going to be that lady who was diagnosed with arthritis and won Crufts and the World Championship." 
"Don't let your arthritis end your story. It's a new chapter in your life. It's not the end." 
Photo credit: Richard Moss Furtography
We're here whenever you need us
If you need advice or support, you can call our free

 

helpline

 

on 0800 5200 520
Chat to our Arthritis Virtual Assistant
Join our

 

online community