Personal trainer Isaac's tips on exercising with arthritis and managing gym anxiety
08 September 2023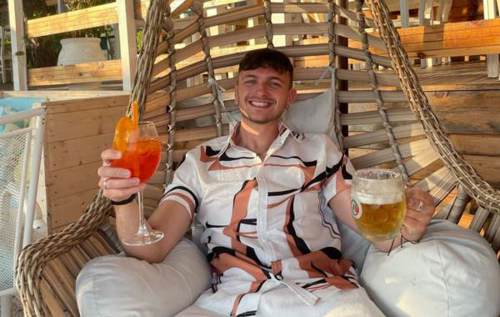 26-year-old personal trainer Isaac has juvenile idiopathic arthritis (JIA). He is a firm believer in exercising to help arthritis pain and improve mental health. 
Isaac has recently started helping people who have arthritis to manage their pain through exercise.
He knows that gyms can be intimidating, especially when you have arthritis, so he supports his clients to find the best exercise routine for them. 
Isaac tells us more about living with JIA, the benefits of exercise, and his tips for exercising with arthritis.  
Isaac's arthritis diagnosis 
At age 11, Isaac was diagnosed with reactive arthritis. This is a type of inflammatory arthritis that affects your joints after you've had an infection somewhere else in your body, such as a tummy bug or a throat infection.  
While reactive arthritis most commonly lasts around three months to a year, Isaac's symptoms didn't go away. A while later, he was diagnosed with JIA, which starts before age 16, and happens when the immune system, which is the body's natural self-defence system, attacks the body. This causes many symptoms including painful, stiff and swollen joints. 
"I remember walking out of the appointment thinking I have to deal with this for life", says Isaac. "It was all consuming. I got into a really bad spiral of depression. I had anxiety at the time and low attendance at school." 
The benefits of exercising with arthritis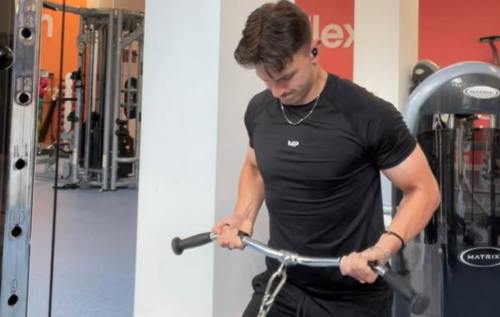 Research has shown the benefits of regular exercise for people with arthritis and musculoskeletal conditions. It can help to ease stiffness and pain, strengthen your bones and joints, and boost feelings of wellbeing. 
Isaac was introduced to the gym by a friend when he was 18, and he's never looked back. 
"I've been working out for 8 years and I've only had one major flare up in that time", says Isaac. "I attribute a lot of my remission to exercise and being on good meds." 
Isaac felt much better physically and mentally when he started exercising. "I started doing resistance training and I focused on muscle building, which strengthened my muscles and tendons", he says. "I saw amazing changes in my body and my self-confidence. I feel strong and good in myself." 
"Exercise helps me feel a bit more fulfilled when I'm feeling lost. It's an amazing contributor to boosting mental health." 
Working as a personal trainer for people with arthritis  
Isaac is now a qualified personal trainer, and he's started specialising in clients with arthritis.  
"I launched my business in February 2021", he says. "I always knew I wanted to do arthritis specific coaching, but I coached the regular population to get systems and processes in place first. It's all online so they follow the plan in the gym or at home, or both. Now, I'm starting to help people specifically with arthritis. 
"Working as a PT personal trainer is really rewarding. One of my clients is doing really well; her fatigue levels have dropped, and her joints feel a lot more robust. It's things like that that make it really worth it.   
"One of the main reasons I'm doing this is because I don't know anyone else who is. I would've loved to have someone do this for me and show me anything is possible." 
Isaac's tips for exercising with arthritis 
If you have arthritis and don't know where to start when it comes to exercise, Isaac has some tips: 
Work within what you're able to do, and if it's uncomfortable don't do it
"For example, dumbbells have recently started to hurt my wrist, so I use straps and attach them to my forearm. You can also be responsive to any discomfort by adjusting the difficulty of the exercise, such as reducing speed, weight, number of reps, or increasing rest times between sets."
Start off small and slow and see how your body reacts before starting a routine  
"When I did my first workout I was aching for days. Your muscles aren't used to it. Start with micro-workouts and add in resistance gradually. Start with general movements like raising your arms above your head, arm circles, hip hinges and box squats."
Do a small warm up before jumping straight into machine work  
"Some typical dynamic warm up movements for upper body involve arm circles, chest stretches, arm hugs and arm swings. For the lower body, try hip circles, gate opening stretches, box squats and lunges with a twist. These will help prepare the body and reduce the chance of injury."
Ensure you're set up in a comfortable position
"Most resistance machines have adjustable parts so you can exercise within a good, safe range of motion. Adjust the machine until you feel comfortable. In general, try to maintain an upright posture, with your core tight and engaged, and control your breathing."
Use a range of motion that feels comfortable.  
"People with arthritis all have different ranges of motion, which means how far you can move or stretch a joint/muscle when performing an exercise. Often, due to the stiffness that people with arthritis experience, our range of motion can be slightly less than usual. But this is OK! Just the fact that you're doing new exercises is amazing and will be effective in strengthening your joints and muscles." 
If in doubt about anything in the gym, get help from a professional. You can also try our stretching videos to soothe the muscles after a gym session."
Isaac's tips for overcoming gym anxiety  
While gyms aren't essential when it comes to exercise, they can be helpful in building a workout routine, holding accountability and staying motivated.  
Isaac is aware of the benefits of the gym, but he also knows that navigating new gyms can be anxiety-inducing for many reasons. Whether it comes down to using equipment, navigating changing rooms or the fear of being judged, Isaac has some tips to make you feel more confident:  
Start off at home if you can
"Get familiar with the movements. Pick up light dumbbells and resistance bands to develop your own confidence first."  
Remember no one really cares about what you're doing
"They're in their zone trying to quietly better themselves."  
Ask for help
"The gym community is extremely open and friendly, so if you're doing something slightly wrong, there are lots of people you can ask."
Check the app
"If you want to go at non busy periods, most gyms have apps where you can see how many people are there."   
Make yourself feel good by wearing nice gym gear
If you look good, you feel good. It boosts your confidence.
We're here to help  
We have lots of resources to help, educate and motivate and people with arthritis to find an exercise routine that works for them:  
Try Let's Move with Leon, a 12-week programme consisting of 30-minute sessions designed to help you improve mobility, posture, balance, cardiovascular and respiratory fitness and strength.   
Join our Let's Move Facebook group, a space where people share their experience of staying active when living with arthritis.  
Sign up to our Let's Move newsletter to receive advice and top tips on how to stay active with arthritis.