Giving Tuesday - Cefin celebrates 40 in style

To celebrate Giving Tuesday, we're sharing the stories of some our inspirational fundraisers who have truly gone above and beyond in order to raise awareness and raise money to fund everything Versus Arthritis does.
Cefin celebrates 40 in style
Cefin turned 40 this year and decided he wanted to take on the 40 – 12 – 12 challenge, consisting of him completing 12 different events in 12 months. He has family and friends affected by arthritis, and was very keen on raising awareness, both about arthritis and the work that we do. Cefin completed his challenge on 7th October with the Cardiff Half Marathon, having raised £5014.20.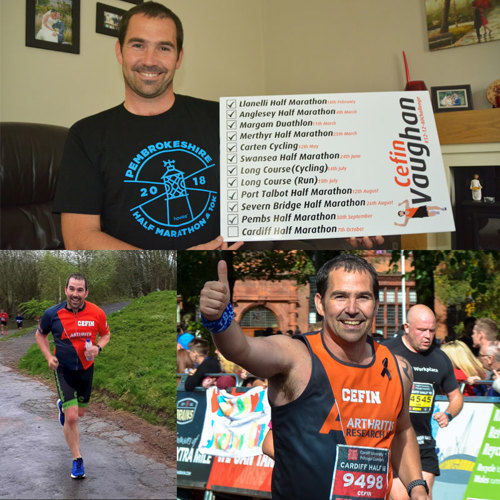 He has also been featured on local welsh radio stations, raising awareness about arthritis, with his most recent interview taking place on Prynhawn Da (the welsh 'The One Show' on the BBC). He's been a really engaged supporter, sharing his enthusiasm, photos and tales from event day with us the entire way.
Cefin's 12 events
Here's the full list of events in which Cefin took part, in order to help people living with arthritis:
9 Half Marathons:
Llanelli, Swansea, Cardiff, Merthyr, Anglesey, Longcourse Tenby, Pembrokeshire, Port Talbot, Severn Bridge.

2 cycling events:
Longcourse Tenby - 112 miles, Carten 100 miles
… and the Wild Flower Duathlon Botanic Gardens.
Thank you Cefin, and thank you to everyone who has donated their time, money and energy to pushing back and helping us do more with and for people with arthritis.