Together we'll make a difference
Millions of people with arthritis are living in pain every single day. Yet it's dismissed as 'just arthritis'. We don't think that's okay, and we're determined to change the future so that more people with arthritis are supported to live well with arthritis.
Our new campaign, which includes TV ads, help to show the public the everyday impact of all types of arthritis on work, independence and relationships.
Since they've been aired, we've been overwhelmed by the amazing conversations on social media about them. People have been honest and open, sharing their own personal stories and experiences about what arthritis means for them. Thank you!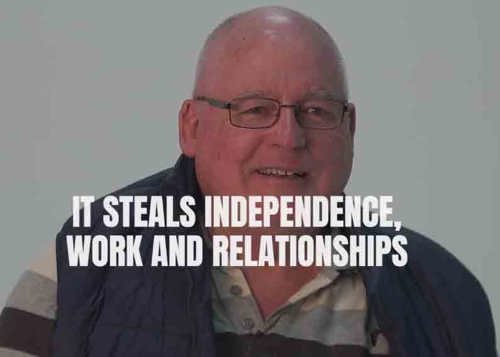 The impact of arthritis in numbers
The 10 million people with arthritis in the UK deserve better. Our recent report highlights the scale of the impact of arthritis, and our strong commitment to achieve positive change for the future.
43% of people with arthritis have hidden their pain from a loved one.
73% of people struggle to explain the fluctuating nature of their pain.
42% of young adults (16–34) feel significantly isolated.
Source: Defying arthritis at every age report
Our service designed to support you with your choices around surgery has saved the NHS £2.6 million within two years.
We're the first charity in the UK to form a support group for children with arthritis and their parents.
Last year, we launched the world's first arthritis virtual assistant to answer your questions 24/7. You've already had over 8,000 interactions, and this has given us a wealth of information about what really matters to you in your everyday lives.
The importance of talking
The personal stories we've heard have been awe-inspiring and show the true strength of human spirit, from Judd Batchelor's story on finding a passion for acting and the importance of talking, to the ways to get support for yourself and loved ones, as highlighted in Anouska and Francesca's stories.
"I'm very lucky with my friends and family and the university, and the support I have. I made it very clear when I went back to university for the second time that I might struggle, and they've been amazing, which has made a huge difference." Francesca.
Our video on Facebook shows how arthritis can affect daily life for people with arthritis and their friends and families, and Jenny on Gogglebox highlights how important it is to talk about arthritis together.
Our investment in the future
We're very proud of what we've achieved to date with our research, patient insight and collaborative work with partners. We'll continue investing in exceptional, innovative research that addresses issues that matter most to people with arthritis to stack odds towards a cure.
We're here to help
We know how much strength it takes to live with arthritis. When you need support, we're here to help in whatever way you or your friends and family need – on the phone, online or in person.
We'll increase our efforts to reach every person with arthritis and give them information and support to manage their condition. Whether that's through our virtual assistant, information on our website, the helpline or the support groups across the country, we'll be there whenever we're needed.
Join us
Taking a small action today can have a big impact. Just by sharing your name, or story, you're showing that you're no longer accepting arthritis being invisible to those who don't have it.
Share your experience, and declare yourself versus arthritis today.