About The Musculoskeletal Disorders Research Advisory Group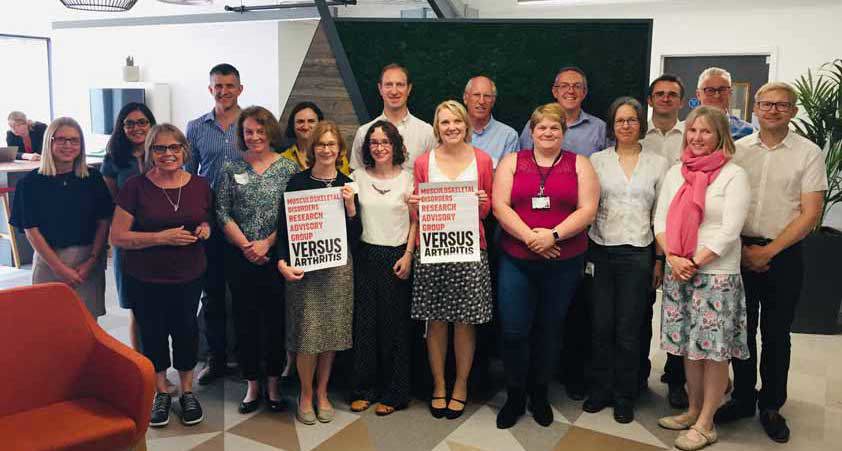 Musculoskeletal (MSK) disorders are conditions which involve parts of the body including the joints, ligaments, muscles, nerves, and tendons which together make up the MSK system. All these conditions can result in pain and limited mobility which can reduce quality of life. Some of these conditions are very rare, but others are more common such as osteoarthritis and tendonitis. We are already funding lots of research into these areas, but more is urgently needed to help people living with MSK conditions.
The Musculoskeletal Disorders Research Advisory Group aims to join people with MSK disorders, researchers and healthcare professionals who have a specialist interest in MSK disorders. Together they will highlight the research needed to improve the quality and impact of MSK research.
Accepting MSK conditions as a part of life is not acceptable. With the group we hope to change this by communicating the importance and need for more MSK research with other organisations that fund of influence MSK research.
More research could lead to a better understanding of these conditions, as well as new and improved ways to manage and treat them. This will improve the quality of life of people living with MSK disorders.
Conditions this group cover include, but are not limited to:
The group aims to be inclusive of all musculoskeletal disorders except those already included by the Autoimmune Disorders and Inflammatory Arthritis Research Advisory Groups.
Take part in our research prioritisation exercise
The Musculoskeletal Disorders Research Advisory Group Versus Arthritis is carrying out an online research prioritisation exercise. In this second part of the exercise, we're seeking opinions on the top priorities for musculoskeletal disorders research. We want to hear from you if you are, or care for, a person living with a musculoskeletal condition, a researcher, a healthcare professional, an industry representative, a research funder, a healthcare provider or government policy maker.
Part 1 of our research prioritisation exercise was completed between November 2020 – January 2021. From peoples' responses to our first survey, we produced a list of research areas into musculoskeletal conditions. By deciding what are the most important areas for you will help us to identify, shape and champion the areas of research to better understand and manage musculoskeletal conditions. This is a critical part of planned work by the Musculoskeletal Disorders Research Advisory Group Versus Arthritis throughout 2020 and 2021.
The survey is now live and will remain open until 5pm on 28 September 2021 and should take no more than 40 minutes to complete.
Ethics Approval Reference: R71769/RE003 (Medical Sciences Interdivisional Research Ethics Committee, University of Oxford).
Group Lead – Dr Fiona Watt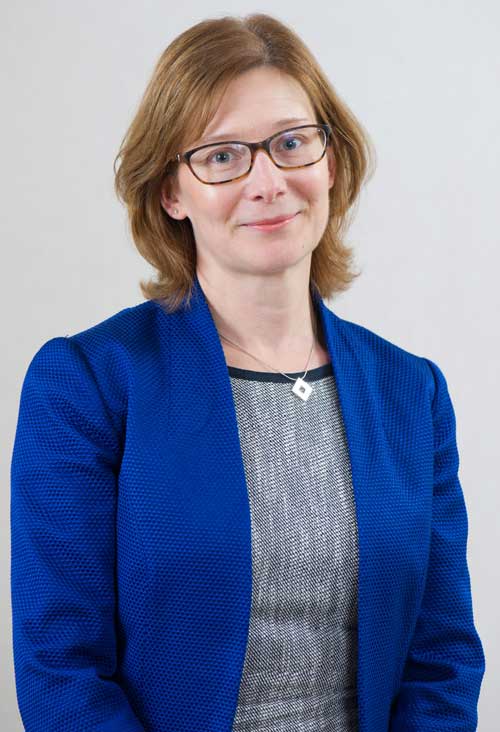 Dr Fiona Watt is a consultant rheumatologist and researcher whose clinical and research interests include osteoarthritis, painful common musculoskeletal conditions and the effects of injury on the joint.
She is based at Imperial College London, and is a member of two Versus Arthritis centres of excellence: the Centre for Osteoarthritis Pathogenesis and the Centre for Sport, Exercise and Osteoarthritis.
Group membership
Dr Fiona Watt. University Research Lecturer, Honorary Consultant Rheumatologist, University of Oxford
Colin Wilkinson. Patient Insight Partner Versus Arthritis
Amanda Clark. Patient Insight Partner Versus Arthritis
Deborah Dulake. Patient Insight Partner Versus Arthritis
Jane Taylor-Wormald. Patient Insight Partner Versus Arthritis
Professor Richard Jones. Professor of Clinical Biomechanics, University of Salford
Professor Ruth Wilcox. Professor of Biomedical Engineering, University of Leeds
Dr Stephen Richardson. Senior Lecturer, Division of Cell Matrix Biology & Regenerative Medicine, The University of Manchester
Professor Christine Le Maitre. Professor of Cell Biology and Tissue Regeneration, Sheffield Hallam University
Professor John Loughlin. Professor of Musculoskeletal Research, Newcastle University
Professor Hemant Pandit. Professor of Orthopaedics and Honorary Consultant, University of Leeds and Leeds Teaching Hospitals NHS Trust
Professor George Peat. Professor of Clinical Epidemiology, Keele University
Dr Linda Troeberg. Senior Lecturer, University of East Anglia
Dr David Andersson. Senior Lecturer, King's College London
Dr Debbie Mason. Reader, School of Biosciences; Director of Pre-Clinical Research - Cardiff University
Dr Christopher Brown. Lecturer of Psychological Sciences, University of Liverpool
Dr Neal Millar. Clinical Senior Lecturer (Immunology) - University of Glasgow
Dr Emma Clark. Reader in Rheumatology, University of Bristol
Dr Zoe Paskins. Senior Lecturer, Honorary Consultant Rheumatologist, Keele University
Dr Emma Salt. Consultant Physiotherapist, University Hospitals of Derby and Burton NHS Foundation Trust
Dr Felicity Bishop. Associate Professor (Psychology), University of Southampton
Dr Elspeth Wise. GP, South Shields (Newcastle)
Dr Maura McCarron. Rheumatologist, Belfast Health and Social Care Trust
Dr Tim Barlow. Trainee orthopaedic surgeon, University Hospitals Coventry and Warwickshire NHS Trust
Malvika Gulati. D Phil student, University of Oxford (maternity leave)
Paediatric Rheumatology Clinical Study Group Representative
Victoria Harbottle, Paediatric Physiotherapist- Great North Children's Hospital, Newcastle Upon Tyne.