Let's talk about Joint Health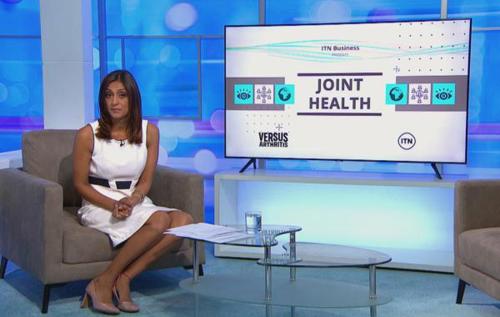 Arthritis is often dismissed as a 'few aches and pains', 'wear and tear', or just an inevitable part of getting older — but that couldn't be further from the truth.  
The reality is arthritis can cause pain, fatigue, and disability — and over 10 million people, of all ages, live with it in the UK. That's a staggering one in six people.  
This World Arthritis Day (12 October), we want to challenge the way people see arthritis.
That's why we've teamed up with ITN Business to produce 'Joint Health'. 
What is Joint Health? 
Joint Health is an exclusive online programme by ITN Business, which hopes to get us talking about our musculoskeletal health.
The programme hopes to better understanding about joint health, and share the ground-breaking research that's taking place to improve care and provide better outcomes for people with arthritis.
What will the series cover? 
In the programme, you'll discover: 
Common myths and misconceptions about arthritis.
The changes that need to be made to support people with arthritis.
How staying as active as possible can help you manage your condition. 
How our exercise programme, Let's Move for Surgery, has supported people waiting and recovering from joint replacement surgery, as well as offering tailored content for people living with arthritis, sharing inspiring stories of people with lived experience. 
Plus, Keele University will explain how their collaborative research with patients and the NHS is helping to test treatments, improve care, and provide better outcomes for people living with osteoarthritis and osteoporosis.
In the programme, Sageeta Kando speaks with our Chief Executive, Deborah Alsina, MBE. She debunks some of the myths surrounding arthritis, highlights the physical, emotional, and financial burden that arthritis can have, and outlines the changes that need to happen to help the 10 million living with the condition.  
Deborah says: "The pain and fatigue of arthritis can dominate and destroy significant aspects of life including social, financial and mental wellbeing.
Far more needs to be done and Versus Arthritis won't rest until everyone has the treatments and support they need, with real hope of a cure in the future.
"We're delighted to be partnering with ITN Business to raise awareness about the impact of arthritis, share people's stories and to encourage important and necessary conversations on World Arthritis Day and beyond."
We should all be looking after our joints  
"We felt that it was so important to partner with Versus Arthritis to raise awareness and understanding of joint health," said Nina Harrison-Bell, Head of ITN Business.  
"We hope that this programme can better people's understanding of joint health and share stories from the organisations who are researching treatments, but also to start a conversation about our joint health."  
How collaborative research supports people with arthritis