Meet some of our incredible team taking on the 2022 TCS London Marathon for Versus Arthritis
27 September 2022

Starting back in 1981, the London Marathon is now the biggest fundraising marathon in the world. Iconic in every sense of the word, it truly is the most magical day for those taking to the streets of London, navigating the 26.2-mile route, and raising money for charity.  
This year, Versus Arthritis has 89 runners taking part and wearing their Versus Arthritis runner vest with pride and we wanted to share just a handful of our incredible people taking on this phenomenal challenge.
Aime Perrin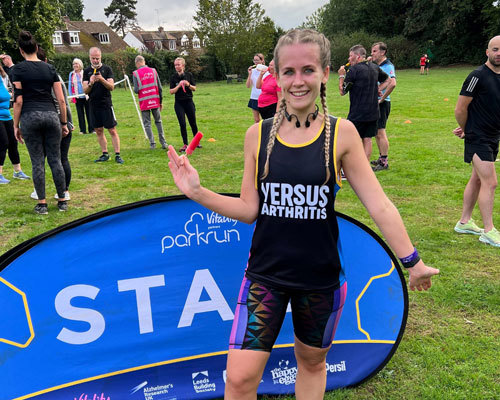 Aime 34, Physiotherapist by profession absolutely loves running, anything Disney and her Peloton. Two years ago, she was diagnosed with inflammatory arthritis.  
Aime says: 
'In April 2020 out of nowhere, I started experiencing joint pain and swelling in my hands and feet. After multiple appointments and a referral to physio, he recognised my symptoms straight away and referred me straight on to a rheumatologist where I quickly got a diagnosis of early onset inflammatory arthritis.  
This came as a shock and relief, a relief to have a diagnosis but also a shock that at 32, I had arthritis.  
I realise how lucky I am to have had such a quick diagnosis and that treatment started soon after.  I understand there are so many people out there who have the agonising wait times for appointments, diagnosis and treatments.  Arthritis can affect anyone at any age in multiple forms.  As a Physiotherapist myself I never expected I would be the rheumatology patient!  
I want show that despite arthritis, it can be controlled, and we can still achieve incredible things.  I have been given this amazing opportunity to run the London Marathon by Versus Arthritis and to help fund vital research to help push forward research for treatments, support for those suffering and maybe one day a cure.' 
Matt Taylor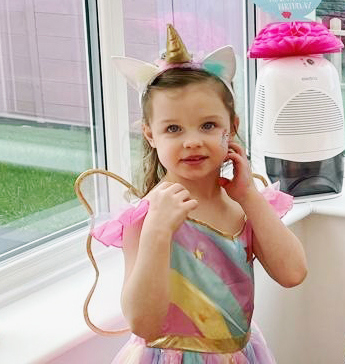 Matt, like many, was naïve to who and how arthritis can affect anyone at any age when his daughter, Niamh, was diagnosed with juvenile idiopathic arthritis (JIA) at the age of just 16 months.  
Matt says:  
'When Niamh was diagnosed with JIA at 16 months of age, we, along with 90% of the people we spoke to were naïve enough to think the condition was just aches and pains for the older generation. When you are forced to research the condition further, the stark reality of the condition, how it affects and who it can affect was much more sinister than we had ever realised. In Niamh's case, her immune system was attacking the tissue around her joints in her body. Specifically in her knees, ankles and neck.  
Recently, we've received great news that the majority of her medication can now be withdrawn following 2 years of sustained treatment. The rheumatology department at Alder Hey have been absolutely fantastic – we are under no illusion that Niamh is one of the lucky ones.  
The unpredictability of the condition and the fact it can stop you taking part in the things you enjoy, at any age, is a really sobering thought.  
The support from our loved ones has been brilliant, throughout this journey since Niamh's diagnosis but also in the support they've shown me ahead of the London Marathon and supporting Versus Arthritis.' 
Ellen Robinson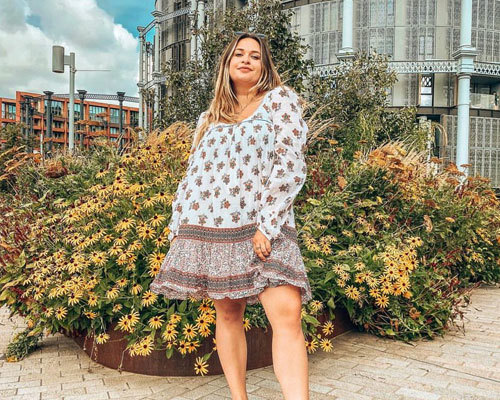 Having been diagnosed with JIA at 18 months old, Ellen suffered a bad flare up in her 20's which led to her involvement with Versus Arthritis. 
Ellen says: 
'I was diagnosed with JIA at 18 months old. I don't remember very much about this time of my life so mainly relive these stories through my mother. However, when I was in my mid 20's I had a pretty bad arthritis and uveitis flare up. This left me feeling very lost and led me to want to learn more about my condition and find a community, so I didn't feel so alone.
I went on to make a YouTube video about the Uveitis as I couldn't find anything helpful online and wanted to share my story. This video absolutely blew up within the community and was found by a wonderful woman who worked for the young people and family service at Versus Arthritis. She got in touch, and I came on board to work as a volunteer a few months later.
Volunteering at Versus Arthritis changed the way I viewed my health and allowed me to build the most wonderful community and feel so supported.
Since then, I have been on a variety of medication and have now got my arthritis very much under control again. I have now taken up exercise as one of my main hobbies and have been documenting this through my social media platforms. I think running the marathon is going to be the most amazing way to give back to Versus Arthritis as without the charity I may not even be able to exercise as much as I am able to today.
Volunteering at Versus Arthritis also helped me to get my job at Arthr and is another one of the many reasons I am so grateful to the charity!' 
 
Read more about Ellen.
John Smith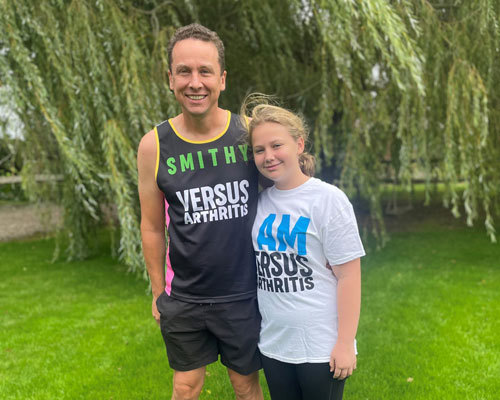 Around 6 months before the pandemic, John's daughter, Martha, had been suffering from various joint pains. Having put it down to growing pains or exercise pains, they were soon to find out this wasn't the case.
John says: 
'When Martha was diagnosed eventually with JIA after being tested for the joint pain she was experiencing, under Evelina Hospital she had a series of treatments which initially helped with the pain. After, she was put on to weekly injections of methotrexate which she found very difficult making her feel very unwell for a few days afterwards. Through home-schooling, and various bouts of shielding advice, Versus Arthritis had made contact. She was provided with great support, and an exciting opportunity to connect (virtually) with other people of a similar age going through similar experiences by crafting, cooking and other creative activities.
Two years on, her consultant now considers her to be in remission, but with a risk the condition could recur at any time. We remain optimistic, and Martha is back doing the things she loves including being goalie for the school hockey team.
The London Marathon is very much my 'home' marathon having been brought up near the start line and this experience has motivated me to fulfil a long-held ambition to run the marathon and give something back to this amazing charity.
Lucy Pickup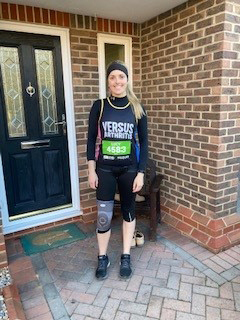 At 24 years of age, Lucy's life changed forever.
Lucy says: 
'I woke up with a back spasm that lasted 3 months. I lost my ability to walk, all my independence and my world fell apart. I lost my job, my dreams and all that was normal to me.
I was later diagnosed with fibromyalgia, a life long incurable chronic pain condition. Living with this type of invisible illness is a form of torture, pain is the common denominator every day.
Running is one of the only times I feel in control of my body and my illness. I am 5 years into recovery now and proud to be running the London Marathon. Taking on this challenge has helped me on a personal level get through 2022, keeping me focused on tomorrow no matter what happened today whilst being able to support Versus Arthritis, raise awareness and help fund valuable support and research.'
Charlotte and Garry Turner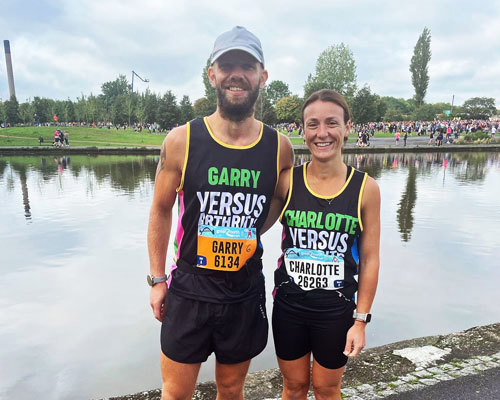 Back in 2019, Charlotte began getting pains in her joints soon after her fourth son was born and put it down to other factors. Unaware that arthritis was about it hit their family hard.
Charlotte says:  
'The pain started soon after the birth of my fourth son, however as time went on, the pain and stiffness escalated quickly. Mornings were the worst, my joints seizing up overnight and I got to the stage where I couldn't complete seemingly simple tasks easily or independently anymore. Getting out of bed, putting on a top, picking up my baby, the list was endless.
The first GP I saw took blood tests to try and find the cause and they specifically stated that they were not going to test for 'Rheumatoid arthritis' as I was too young to have that. A common misconception of this disease.
Thankfully I went back on a different occasion and saw another GP and she suspected it was RA and the blood tests came back confirming this. I was seen quickly by the consultant to get a diagnosis. In my first appointment, he put steroid injections in both my knees to reduce the inflammation and disperse the fluid. He prescribed me on immune suppressant medication. He spoke to me with such understanding and kindness, I will forever be thankful to him for acting so quickly.
I was diagnosed with seropositive rheumatoid arthritis at the age of 29, I will always have to take medication for this disease, and it is incurable. I felt alone and devastated. It took me a while to come to terms with the diagnosis.
It's roughly two and a half years since my diagnosis and I'm in a completely different place now. I'm taking regular medication, I know the warning signs and when to take a rest, all my blood levels are where they should be, which is great. I still have aches, pains, flare ups and fatigue but it is all manageable.
I'm fortunate at the moment that it's under control but so many people are suffering and struggling daily with arthritis. This is why running the marathon for Versus Arthritis means so much to both of us, we first hand knows the daily struggles and heartache this disease causes individuals and their families.
We feel incredibly lucky to have been offered places to run for Versus Arthritis. This particular charity means so much to our family.'
Read more about Charlotte and Garry.
Liz Stoneman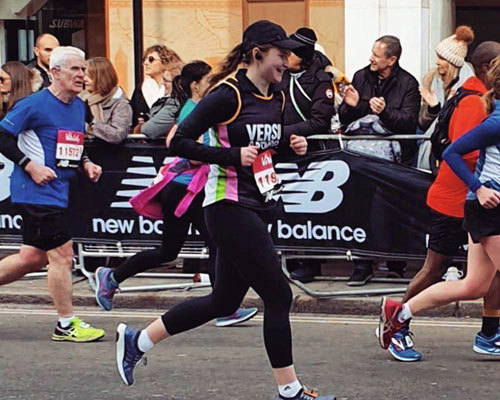 In 2010, after waiting some time for a diagnosis, Liz was diagnosed with seropositive juvenile idiopathic arthritis.
Liz says: 
'It took quite a while to get a formal diagnosis, after being ignored from health professionals and labelled with repetitive strain injury through doing too much sport at the time. A few months of re-presenting to the GP with ongoing joint pain, multiple swollen joints and fatigue I was referred to a general paediatrician, and from there to a rheumatologist at University College London Hospital.
I've spent some time in hospital as an inpatient, but mostly manage my condition at home. It was difficult when I first received my diagnosis as I was only 15, and going through my GCSE exams at the time. I was pretty much bed bound, and unable to walk 10metres let alone run a marathon. Having to stay in hospital, away from family and friends isn't easy at that age, and to be told you have "arthritis" is something you've only ever heard about elderly people suffering from, so of-course was quite scary.
But now, together with anti TNF medication (Enbrel) and DMARDS (Methotrexate) and knowledge around the condition, I am now minimally affected by the symptoms of JIA. It is only through research grants, that these medications are available. With money raised through events like the London Marathon 2022, I hope to work together with other people to raise money for a charity that is close to my heart, to allow further research to support people affected by arthritis.'
Scott Whittaker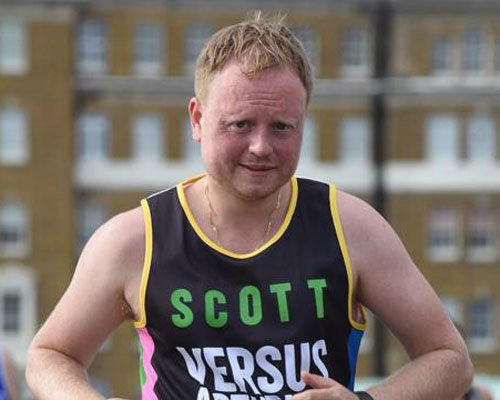 Scott, a chef from London, has been living with psoriatic arthritis for more than 10 years and now is taking on his second marathon for Versus Arthritis.
Scott says:  
Just to rewind a little bit back to 2008. I had a climbing accident, and I tore my meniscus that eventually resulted in having keyhole surgery on my left knee.  
Two years later when working in Australia, I fell over whilst running home and hurt my knee.  
Working in a busy restaurant helped contribute to the stress, with migraines, inflamed feet, knees and wrists including extreme pain in my jaw. After weeks of tests and pain killers I was referred to a rheumatologist, who discovered that I had a condition called psoriatic arthritis.  
After pushing through the pain and determined to stay in Australia, I eventually decided to return home where I would need proper care.  
To cut a long story short. 18 months unemployed, going through intense medical treatment, immune suppressant drugs, physio and Pilates. I eventually moved back to London. 
After years of managing the illness, I tapered off the medication and continued without any aid and adapted my lifestyle to help control the condition and I am currently in remission.  
Now, 11 years later since my diagnosis I continue to keep fit and healthy and defy the odds of this chronic disease that attacks its own cells, known as arthritis.
I am excited to be running the London Marathon, following in the footsteps of my dad who ran it 30 years ago in 1992 (and I am hoping to beat his time!) but also to raise vital awareness of arthritis and support Versus Arthritis.'
From everyone here at Versus Arthritis, we wish the very best of luck to all our amazing runners taking on the 2022 TCS London Marathon! Thank you!