How does the shoulder work?
Your shoulders each have two joints, making them the most flexible parts of your body.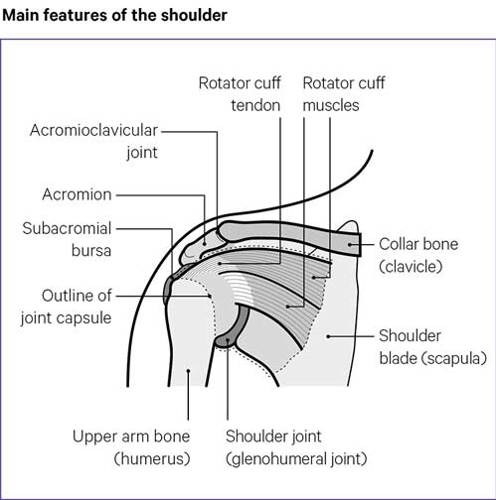 The main shoulder joint – the glenohumeral – is a ball-and-socket joint. It's called this because the top of the upper arm bone – the humerus – is shaped like a ball. This ball fits into the shoulder blade bone, which acts as the socket, giving your shoulder a wide range of movement.
But, the shoulder socket is very small, compared to other ball-and-socket joints, such as the hip. It's held together and controlled by a covering of muscles, which are secured to the bones by strong cords called tendons.
These muscles and tendons form a capsule around the joint and support its movements, but can make it more likely to dislocate than other joints.
Inside the capsule is the synovium, which produces fluid that lubricates the joint and keeps the cartilage healthy. The cartilage helps protect your bones from any impact and sits between the bones of your shoulder joints to stop them rubbing together.
Above the main shoulder joint there's a smaller joint where the top of the shoulder blade – the acromion – meets the collar bone.
This is known as the acromioclavicular joint. It helps the larger joint below to move through its full range, particularly when you're raising your arm, lifting or throwing.
Causes
Most shoulder problems only affect a small area and should last a relatively short time.
But sometimes the problem in your shoulder could be part of a wider, long-term condition such as, osteoarthritis or polymyalgia rheumatica.
It's fairly common for people with rheumatoid arthritis to have pain and swelling in their shoulders.
Osteoarthritis is less likely to affect your shoulders than other joints, unless you've injured them in the past.
There are several other possible causes of shoulder pain, such as:
inflammation, where your shoulder becomes hot, red, swollen and painful as a natural reaction to an infection or injury
damage to the muscles and tendons around the shoulder
tension in the muscles between the neck and shoulder – this is usually down to your posture in your upper back or neck, and is often linked the way you stand or sit when you're using a computer or at work
inflammation in the bursa – a fluid-filled cushion which normally helps the muscles and tendons slide smoothly over the shoulder bones
damage to the bones and cartilage, which can be caused by arthritis.
It's also possible the pain you're feeling in your shoulder is coming from a problem in another part of your body, such as your neck.
Problems in your neck can make your shoulder blade or upper outer arm painful. When this happens it's known as referred pain or radiated pain. If you're feeling a tingling sensation in your hand or arm, as well as pain in your shoulder, it's likely to be from a problem in your neck.
When to see a doctor
Unless you've had a serious injury or get a sudden, continuous pain, you can usually treat your shoulder pain without having to see your doctor.
If, after two weeks of treating yourself, you feel the pain isn't any better you should see your doctor or a physiotherapist.
You should also see your doctor as soon as possible if you:
develop severe pain in both shoulders
also have pain in your thighs
feel feverish or unwell.
These can be signs of the condition called polymyalgia rheumatica, which needs prompt treatment.
Managing symptoms
There are several ways you can help your shoulder pain:
Painkillers
Simple painkillers, such as paracetamol, or non-steroidal anti-inflammatory drugs (NSAIDs), such as ibuprofen tablets and gels, from a chemist or supermarket can help.
A pharmacist should be able to give you good advice on what could work best for your condition. But don't use them for more than two weeks without seeking further medical advice.
Diagnosis
Each shoulder problem has its own pattern of symptoms that can help your doctor or a physiotherapist make a diagnosis. Most conditions make it painful to use or move your shoulder, but some make your shoulder feel stiff.
Your doctor or physiotherapist will need to see which movements are the most painful, as this could show where the problem is. They will usually ask how the problem started, how it has developed and how it affects your daily activities.
If you can, try to write a few notes about when and how the problem started and what makes it feel worse before your appointment. This will help you get a more accurate diagnosis.
Usually your physiotherapist or doctor can recommend the best course of treatment once they've diagnosed what your condition is. However, they may send you for further tests if they suspect your problems are being caused by arthritis or a more complicated condition.
What tests are there?
Blood tests aren't usually needed for most shoulder problems, but they're sometimes used to rule out other conditions, including some types of arthritis.
X-rays are good for looking for problems with the bones in your shoulder and minor changes in the joints. However, small changes are quite common and may not be the cause of your trouble.
X-rays can only show bones and other hard substances, but they won't show injuries to soft tissue like muscles.
An ultrasound scan can show swelling, as well as damage and problems with the tendons, muscles or other soft tissues in the shoulder. It uses high-frequency sound waves to examine and build pictures of the inside of the body.
You may be referred for magnetic resonance imaging (MRI) scans if your doctor suspects a more complex problem with the soft tissue in your shoulder. An MRI uses radio waves to build a picture to show what's happening to the bones and soft tissue, such as the muscles and tendons, inside your shoulder.
Sometimes dye is injected into the shoulder before the MRI to get a clearer picture – especially in cases of shoulder dislocation.
Nerve conduction studies can show whether your problems are being caused by the nerves in your arm being pinched or irritated.
They measure the electrical activity in the muscles and nerves. It's common to feel slight pain or discomfort, like a tapping on the skin, but the test doesn't last long.
Specific shoulder conditions
Some of the specific conditions that affect the shoulder include:
Calcific tendonitis and calcific periarthritis
Sometimes pain, swelling and difficulty moving your shoulder is caused by calcium crystals that form inside a tendon. Tendons are the strong cords that attach muscles to bones.  
We all need the mineral calcium in the body, as it helps make bones and teeth strong. But sometimes, if you have too much of it in the body, sharp, tiny, crystals can form in the wrong places.  
If they form in tendons, this is called calcific tendonitis.  
This can happen at various places around the body, including the shoulder.  
Calcium crystals can then shed from a tendon and cause pain and swelling around a joint. This is called calcific periarthritis.  
Steroid injections often work well to reduce swelling. But sometimes the calcium deposits may need to be removed by keyhole surgery. 
Treatment
If your shoulder pain doesn't improve with simple home treatments, there are other alternatives your doctor can recommend for you to try:
Physiotherapy
Most shoulder problems will benefit from physiotherapy.
Physiotherapists are specialists who can help reduce your shoulder pain and show you how to improve the way your shoulder works by using a variety of strengthening and stretching exercise, massage and other therapeutic techniques.
They'll work with you to improve your symptoms and help get your shoulder moving properly again. What they suggest for you will depend on whether your problem is short-term or a long-standing condition. Almost everyone will benefit from physiotherapy, using methods such as:
exercises to strengthen weakened muscles, change their co-ordination and improve function
advice on improving shoulder, neck and spine posture
exercises to ease or prevent stiffness
exercise to increase the range of joint movement
applying adhesive tape to the skin to reduce the strain on the tissues, and to help increase your awareness of the position of the shoulder and shoulder blade
manual treatments to the soft tissues and joints – such as massage and manipulation.
Your doctor can refer you to a physiotherapist, and in some areas you can refer yourself, but this referral could take a while.
You could see one quicker if you go privately but you would have to pay for this. You can find information about private physiotherapists in your area on the Chartered Society of Physiotherapy website.
Research and new developments
We're currently funding research aimed at improving the treatment of shoulder pain.
Our research has recently shown that subacromial decompression surgery, a common treatment for chronic shoulder pain, may have limited benefits and so should only be considered for people with this condition if other treatments haven't helped. Our information on how decompression surgery may not benefit people with shoulder pain can tell you more.
We're also looking at ways to stop people having unnecessary operations by funding research into better ways to assess what's causing their shoulder problems, based on their lifestyle and the way they do things.
The aim is to find the best treatment that is most likely to work for them. This could reduce the long-term pain, disability and time off work caused by their condition. Our information on developing a better approach to assess and treat shoulder pain will tell you more about this research.