How to tell us if the Arthritis Tracker has stopped working
If the app has stopped working for you, we're sorry to hear that. We would like to help you as best we can.
Do not uninstall the app yet
It's important that you do not uninstall Arthritis Tracker off your phone, as this will mean you will lose the data you've been tracking on the app. In the future we will be adding the ability to back-up your data, however this is not currently available.
Things you can do:
The first thing to try will be to check if your phone operating software needs to be updated, and check that you have the most recent version of Arthritis Tracker. Sometimes this can be a quick fix.
If you are still experiencing problems, please email apps@versusarthritis.org to let us know and we will try our best to help you. The more detail you can give us the more we can help you – in your email please tell us:
What the problem is.
Roughly how long ago did you download the app?
Important information about your phone. (You can find the information below in Settings > About/ About Phone)

Your Phone model e.g. iPhone 6 or Samsung Galaxy S8
Your operating system version e.g. iOS 12.4.6 or Android 8.3

Any screenshots/ video recordings showing the problem (if relevant/possible) or else a description of exactly what you saw on your screen when it crashed/ the problem occurred?
Reviewing the name for the app
We've listened to your feedback and ideas to improve our app.
Thank you to the health professionals and young people who told us that the name 'Arthritis Tracker for Teens' is harder to relate to for older teenagers and those in their early twenties, who also use the app.
We knew this was something we needed to change and so we took the opportunity to review the name.
What we've done
We asked young people, Versus Arthritis staff and a team of experts to come up with some new name suggestions.
From this we ended up with a long list of possibilities, which whittled down to a shortlist of five, including a shorter version of the original 'Arthritis Tracker'.
We left it completely up to young people to vote for the name they wanted and a few weeks later, the results were in!
Our standout winner was 'Arthritis Tracker', a simplified version of the original name which is inclusive for both teens and young adults and describes exactly what you get from the app.
Thank you to everyone who voted and gave us feedback on what the app should be called.
Improving the 'getting started' screens
When you download an app for the first time, you're usually greeted with a 'welcome' journey. These screens show you how the app works, so you feel confident in using it.
What's changed
We've given the welcome screens a re-fresh, added a big splash of colour and some 'Getting to know you' screens.
A splash of colour
Have a look below to see how colourful these welcome screens now look: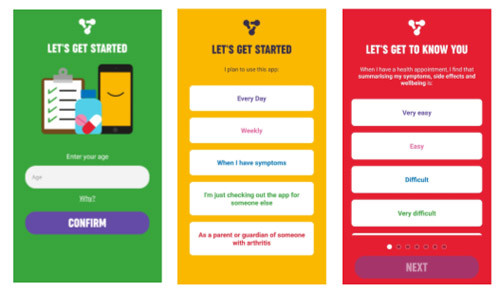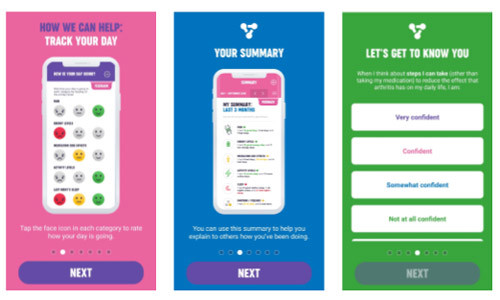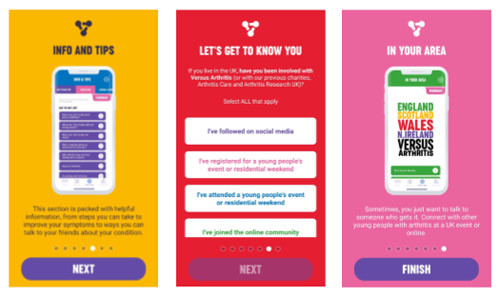 Measuring the difference we're making
We've added three new questions onto the welcome screens. These include:
Your experience of describing how you've been at appointments
Your confidence when it comes to managing your day-to-day symptoms
How connected you are with Versus Arthritis and the services we offer
These questions will help you to reflect how the app might benefit you personally and it will signpost you to useful sections of the app.
The questions will also help us to measure the difference the app is making.
A new feature: tracking where you feel your pain
We've had a lot of requests for the ability to track where is sore, not just if you've been sore.
This was already on the top of our 'to do' list and we're pleased to announce it's ready and live on the app.
What we've done
Now, when you tap the sad face within the 'pain' section (e.g. you've had a painful day), a box will pop up allowing you to add multiple joints that have been sore.
Once you select 'Done', it will be saved for the day and you can review it by tapping on the 'Where' button beside 'Pain'. When you visit your summary, this information will appear in a list when you tap the 'More Info' button beside 'Pain'.
How you can help us prioritise future improvements
Your opinions and feedback are vital in helping us make this app better.
Over 100 young people and health professionals have contributed to this app in some way, and we would love to hear from you too.
Tell us what you think
Filling in a survey is one of the simplest and most helpful ways you can help us develop the app.
Whether you are a young person, parent or health professional, please take a few moments to share your opinion by clicking the link below.
How to provide general feedback
If you are using the app, tap the 'feedback' button to share your ideas about how the app can be improved, or email apps@versusarthritis.org.