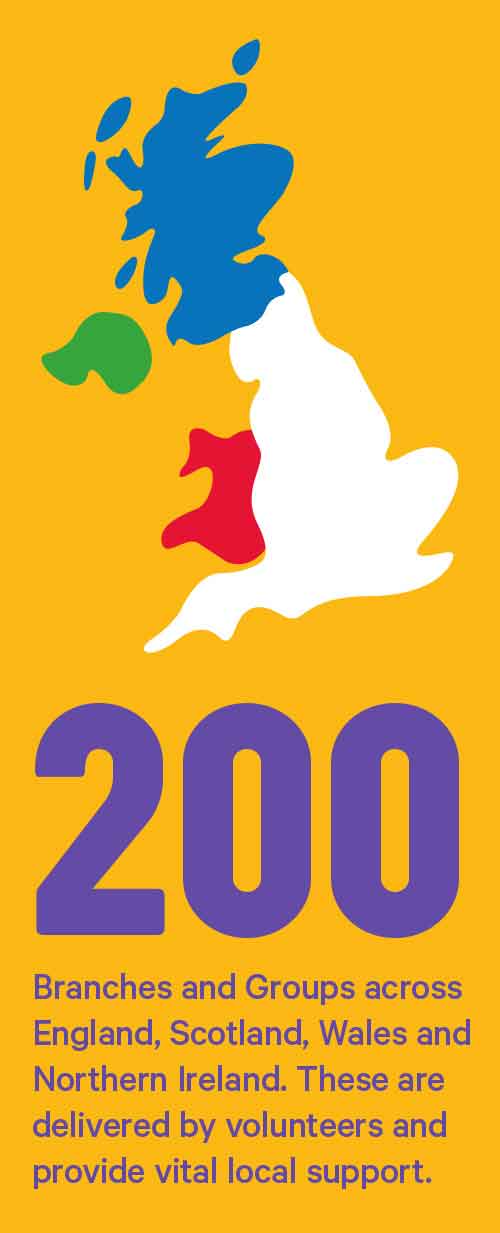 You've helped us to achieve life-changing breakthroughs in our push to beat arthritis. Together, we have a long history of demanding and delivering better results and we won't stop until the world no longer tolerates the impact of arthritis.
Here are a few examples of how, together, we're making a difference:
The treatment of arthritis had its biggest breakthrough yet when we discovered a key molecule known as tumour necrosis factor (TNF), leading to a new class of drugs known as biological therapies. Since its approval in 1998, infliximab alone has transformed the lives 1.9 million people with inflammatory arthritis.


Across England, Scotland, Wales and Northern Ireland we have approximately 200 Branches and Groups. These are delivered by volunteers and provide vital local support.
Our online community provides vital peer-to-peer support 24 hours a day, letting you know you're not alone. 



"My forum family has kept me sane. I have had fantastic support and, to be honest, without that support, I wonder if I'd have got through these last few months. Thank you."

66% of helpline callers told us that they'd made positive changes to their lifestyle as a result of the information they'd been given.


Annually we distribute over 100,000 booklets that empower you to make informed choices every day.
"I give (your) information to patients all the time because I know that it's trusted and reliable. The exercise sheets are invaluable and I send patients straight to your website."
Our highly successful service designed to support you with your choices around surgery has saved the NHS £2.6 million within two years.


Thanks to your incredible support with bake sales, sponsored events, gifts in wills and generous donations, we raised a fantastic £5,287,000 at Arthritis Care. Now that Arthritis Care and Arthritis Research UK have merged, we're going to make even more of an impact against arthritis.


More than 5,000 GPs and primary care professionals have more confidence in assessing, diagnosing, investigating and treating your musculoskeletal problems thanks to our Core skills e-learning package.


We're the first charity in the UK to form a support group for children with arthritis and their parents.



"When I joined I was afraid of talking to strangers about my arthritis and didn't like answering questions. But with your help I've become more confident about my arthritis and how to answer questions. Thank you for making me feel comfortable to have arthritis."

We secured the first parliamentary debate on arthritis at Westminster in more than five years. All too often, arthritis goes unseen and unchallenged, but with your time, energy and enthusiasm we've driven your needs further up the political agenda.


Last year we launched the world's first virtual assistant to answer your questions 24/7. You've already had over 8,000 interactions and this has given us a wealth of information about what really matters to you in your everyday lives.


Last year your generosity allowed us to invest over £20 million in research that makes a real difference in people's lives.



"I've seen the difference research has made to my own life. Because of the advances made in joint replacement surgery by the time of my last knee replacement I found I recovered faster and had less post-operative pain."

In Northern Ireland, our amazing volunteers worked with 80 vulnerable older people through our Staying Connected in Later Life service, helping them cope better with their condition, make positive changes and feel less isolated. 72% showed an improvement in their social life and 67% improved their mobility.