Supporting the next generation of arthritis researchers
19 November 2020

We're committed to funding research that accelerates our understanding of all types of arthritis and improves treatments for millions with the condition.
How are we making a difference?
One of the ways we're making a difference is by funding PhD students through four years of study at our Research into Inflammatory Arthritis Centre Versus Arthritis (RACE). Supporting early career development in the field is vital to ensure we have new generations of scientists trained and committed to the fight against arthritis.
The centre, which is a partnership between the universities of Glasgow, Birmingham, Newcastle and Oxford, recently awarded twelve PhDs from our first round of funding and will be supporting a further twelve students this year.
While the centre has already made huge steps forward in our understanding of inflammatory arthritis, there are still many people with the condition who live in pain because they don't respond to new treatments.
The goal here is to learn more about rheumatoid arthritis and the causes so we can move towards developing treatments driven by precision medicine. This ensures the right treatment is delivered to the right person at the right time.
Meet our researchers
We've spoken to some of the students who were awarded PhDs in the first round of funding to find out how collaboration has allowed them to achieve more, what new discoveries they've made, and how their research and career aspirations look to help people with arthritis in the future.
Giving strength through collaboration and supporting each other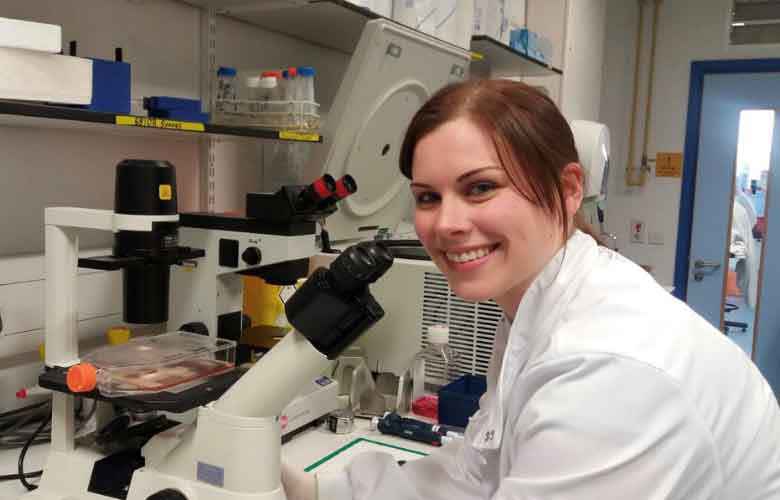 Many of the students we spoke to said how much they valued the support of others and how collaborating with other scientists enabled them to keep learning and achieve more from their projects.
Jennifer Mitchell, a University of Glasgow PhD student (2015-2019) focussed on how inflammation happens at the molecular level during rheumatoid arthritis.
She said: "As part of RACE you have the opportunity to collaborate with world-leading researchers across the UK and beyond in an inclusive environment. The quality of research that has come out of the programme is impressive and I have no doubt that we are closer to a cure thanks to the centre."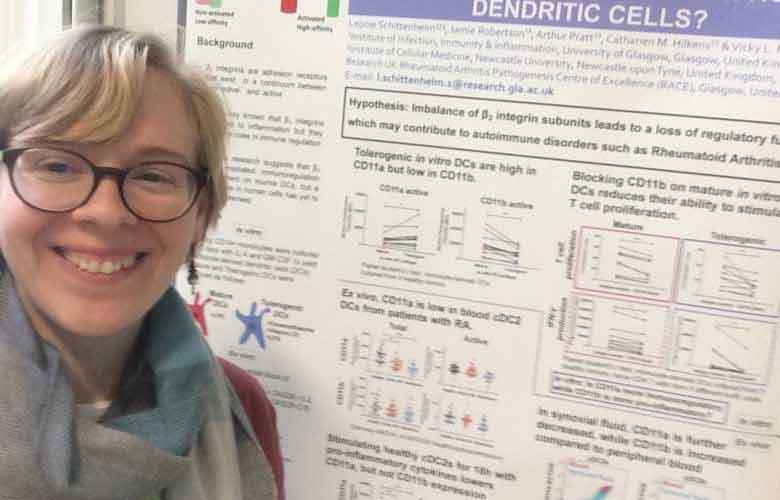 Leonie Schittenhelm, a Newcastle University based PhD student (2016) looked at integrins, which stick cells together, to see if they are different in inflamed rheumatoid arthritis joints.
She said: "What makes RACE special, apart from the local support at each site, was the strong focus on patients and the quarterly meetings full of discussion and fun – we all shared a passion for improving the lives of people with rheumatoid arthritis."
Emilie Cosway, a University of Birmingham based PhD student (2014-2017) whose research looked at how white blood cells, which respond to infection or disease, are made and how this process may become disrupted in arthritis said:

"Through the years, we formed a support unit across the different universities and built a strong network of people to discuss our findings with, which sometimes led to previously unknown collaborations, benefitting both our own research in arthritis and other inflammatory related research. This process really stood out from other PhD schemes."
Innovation and new discoveries in science
Many of the students used innovative techniques to look at new areas of research, finding answers to previously unanswered questions, or moving us closer to understanding the causes of rheumatoid arthritis and how we might better treat it.
Rhys Jones studied for his PhD at the University of Birmingham from 2015, looking at a newly discovered population of white blood cells in the thymus – a key organ responsible for white blood cell development.
He said "my research brings us closer to understanding the mechanisms of early white blood cell development that are essential for immune function. Problems with this process can lead to immune-driven diseases, such as rheumatoid arthritis, so it's key that we understand why these problems happen."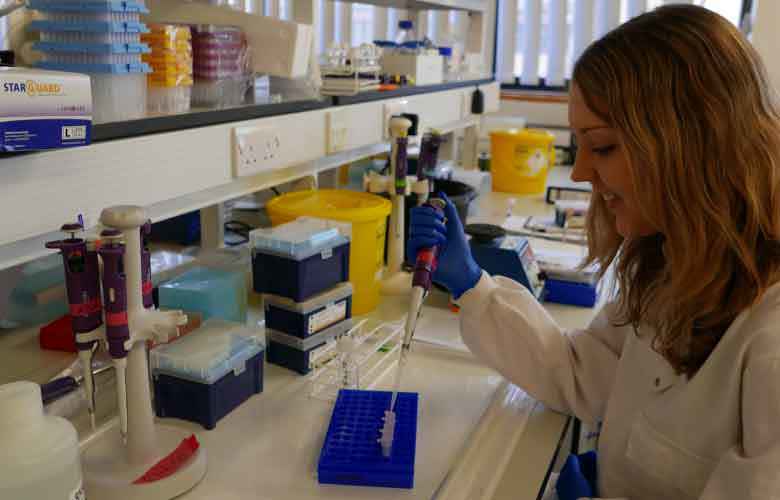 Laura Ridgely, a Newcastle University based PhD student from 2014 carried out innovative research that provided information about key biological processes in rheumatoid arthritis and showed how proteins called cytokines influence how chronic the condition is.
"My research suggests that drugs which can target this protein pathway may be most beneficial in the earliest stages of disease. Further grants have been awarded to look at this treatment pathway further."
Sally Clayton, a University of Birmingham based PhD student from 2016 worked hard to answer a question that has been unanswered for decades – precisely how steroids that are used to treat inflammatory arthritis achieve their beneficial effects.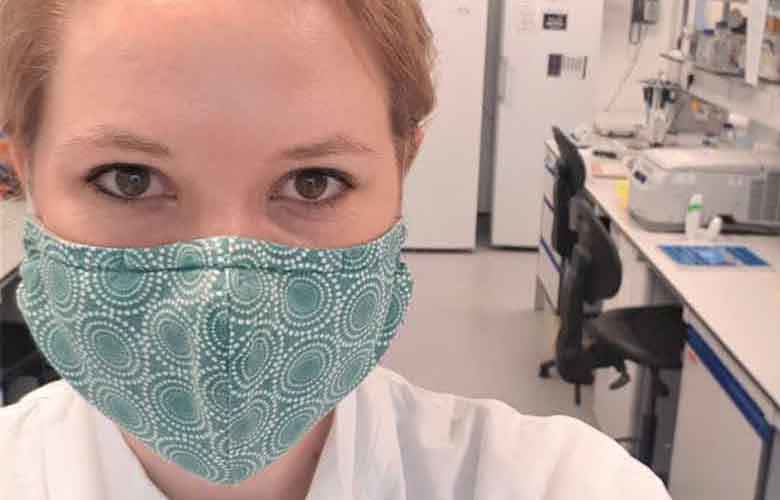 She found that steroids reduced inflammation by interfering with cells called macrophages, which are white blood cells that mediate inflammation.
She said, "ultimately, I hope that my work helps with tailoring of anti-inflammatory treatments like steroids in order to maintain their beneficial effects of reducing inflammation, whilst avoiding the unwanted side effects."
Leonie's work looking at integrins was important because it shows that we have to target drugs very specifically or they might have unwanted side effects or not work at all."
What this means for the future?
It's important that we support early research careers and inspire more people to join the fight against arthritis. Many of the PhD students awarded here have gone on to research careers elsewhere now, but several hope to positively influence future treatments to help improve the lives of people living with arthritis.

Jennifer said: "The work I carried out provided new insights into how inflammation happens at the molecular level during rheumatoid arthritis, and hopefully this will lead to future therapeutics that not only treat the disease but bring us closer to a cure."
Sally is continuing her research into the regulation of immune cells in rheumatoid arthritis in order to make steroids more effective with fewer side effects. At the moment she's part of a rheumatology research group at the University of Birmingham but says "I hope to further develop my expertise in this area and pursue a career in academic research."
Since his PhD with RACE, Rhys Jones has obtained a position on the highly competitive NHS Scientist Training Programme. His desire to progress in a career with a direct impact on patient management was fuelled by his experience at RACE, which puts the patient at the forefront of their research.
"I now aspire to rise through the ranks as a clinical scientist where I continue bridge the gap between laboratory scientists and clinicians, and ultimately improve patient care."
We're committed to supporting research
We currently invest £134.6 million in cutting-edge research, of which over £60 million (45%) is dedicated to inflammatory arthritis and immune system research, aiming to better understand arthritis as well as develop new drugs, treatments and ways to manage the condition. Ultimately, this research aims to improve the quality of life for people with arthritis.
We'll keep you posted on progress and updates, find out more about our research.
We are here for you