Some festive cheer to end the year: meet 10-year-old chorister William
16 December 2022

Season's Greetings! Christmas is approaching, and here at Versus Arthritis we'd like to share some festive cheer.  
Celebration can be found at Ripon Cathedral, where we met William, who has juvenile idiopathic arthritis (JIA).
William has found that singing relaxes his pain – so much so that he's become a senior chorister at an impressive 10 years of age.  
"Singing makes it feel better." 
At just age 7, William saw Ripon Cathedral lit up at night and decided he wanted to sing there.
It was his first time singing except in school assemblies, but William soon discovered that singing made him feel relaxed and warm.
"Singing and music relaxes my pain. I'm at peace with my pain in the cathedral".  
While William's story is one of warmth and joy, he had a difficult diagnosis journey. A disjointed hip and cerebral palsy were both suspected causes of William's pain, as were sensory issues because William is autistic.
But William's mum, Sarah, has psoriatic arthritis and was able to recognise William's discomfort before his diagnosis.
Scans finally revealed that he had arthritis and enthesitis – inflammation of the enthesis, the area where a tendon or ligament attaches to bone. 
"It was a relief to get a diagnosis. It was a label but it's a way of saying we need the support and the ability for William to be understood." 
Music has become a huge support for William, and he likes that he does something different. He's now a senior chorister, which means he looks after the new choristers.
"The way William supports young choristers and shows them what to do is fantastic. He's got that skillset – the ability to say I can do this. If you saw him there singing you wouldn't suspect that he has these additional needs."  
William plays the clarinet at school and the piano at home. Despite feeling pain in his fingers when writing, he doesn't feel any pain when he plays the piano.
Sarah thinks this is because of the joy and relaxation music brings to her son. "William comes away from singing a different child. He's relaxed and excited."  
"William's commitment to music is huge."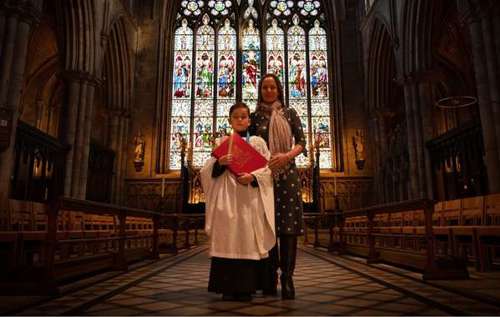 Of course, singing in a cathedral can have its issues.
William sometimes finds standing difficult, and the choristers sit on medieval choir stalls made of wood. William will move his feet around a bit for relief, but out of respect he doesn't like to move around too much in a service.
"William finds the stone floors at the cathedral difficult, but the music director and team are brilliant. They give him time when he needs it." 
Sarah is incredibly proud of William. "As a parent you're so worried about him fitting in or being in pain but he's singing and it's such a warm proud feeling. You can't help but smile inwardly, even in a serious service." 
"William's music is a huge commitment from the family – but it's worth it." 
William gets lots of support from Sarah and their family. Sarah's diagnosis helps her to connect with William and his pain. "I know what it's like so I can easily pass him a hot water bottle."  
William has two brothers and balancing his condition can be challenging. "We're lucky that William's brothers are older. This makes things a lot easier with travelling to his medical appointments and his timetable for being a chorister."  
There are currently around 12,000 children and young people living with JIA in the UK.
Everyone has their own coping mechanisms – and music is clearly William's.
When asked what else helps William with his pain, he answered, "my two dogs – Joey and Darcey". William loves snuggling them and stroking their ears. It provides sensory relief and warmth.   
We're here to help 
While the festive season brings lots of joy to young people living with arthritis, the winter months can be challenging.
If you or a family member under the age of 25 has arthritis, we run a Young People and Families service that provides information and support, alongside putting on a range of events across the country.  
Meet the incredible boy with arthritis who sings to help his pain