Running a marathon for Versus Arthritis? Read our expert race day tips
09 March 2023

Every year, hundreds of our wonderful supporters lace up their trainers, race for miles, and bound across finish lines – all so they can raise money to help us support people with arthritis.
Whether you're gearing up for your first race or are an experienced pro, preparing for a marathon can be a little intimidating. But we're here to cheer you on every step of the way.  
Plus, to give you extra support, we put some of your questions to Lily and Eden, who offer their expert advice.  
Eden, 20, competes in triathlons for Great Britain and was diagnosed with rheumatoid arthritis three years ago. She understands first-hand what it's like to live with pain and fatigue whilst running regularly.  
Meanwhile, Lily, 21, a Masters Sports Nutrition student, gives her advice on what food she'd recommend for training and marathon day. 
For more in-depth advice, check out TCS London Marathon's training hub
"I'm considering doing another sport, alongside running, to take the pressure off my knees. Would swimming help?"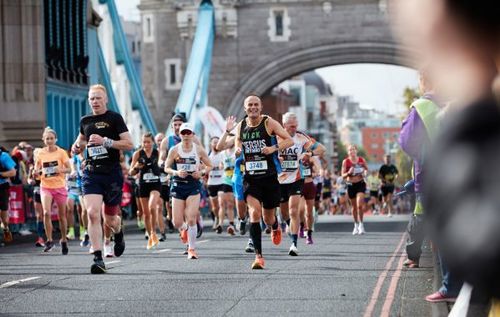 For Eden, pairing her running with swimming has been an "absolute godsend." That's because swimming works the whole body, without putting too much weight or strain on your joints. 
"Even before I struggled with arthritis and inflammation in my knees, I was recommended to pair my running with a non-weight bearing sport — and the easiest one is swimming," she says. 
"It takes the pressure off your hips, knees and ankles and then you can get a warm shower afterwards, which is so relaxing."  
Thinking about doing a few laps of your pool? Read our top tips for swimming with arthritis   
"What would you recommend for breakfast on marathon day?" 
Lily recommends not having a big breakfast on race day. "You don't want anything too heavy on the stomach because it's going to take a long time to digest," she says. 
"I'd go for an easy carbohydrate such as peanut butter and banana on toast, or granola with a protein yoghurt and some berries," Lily suggests. And, of course, it's crucial to stay hydrated, so make sure you drink enough water.  
"When I'm experiencing a small flare-up, I lose motivation to run. How do you keep motivated to stay active as a person with arthritis?" 
Coping with a flare-up can be challenging, so if you're struggling, rest and be kind to yourself.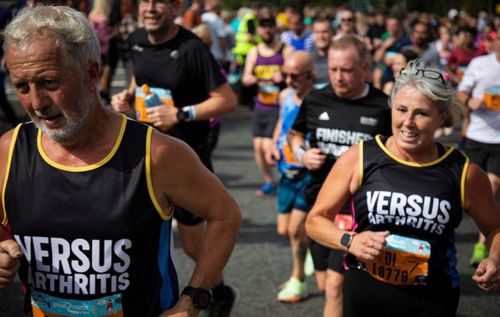 Besides pain medication, some people find that heat pads,ice packs and massages help. Plus, it's important to make sure you're getting a good night's rest.
For more tips, you can read our advice on pain management, as well as some self-care tips from people with arthritis. 
When dealing with a flare-up, Eden says to try to manage your stress. "When you feel stressed, it can lead to a flare-up," she explains.
"So, if you're already going through a flare-up, stressing and feeling worried about it is only going to make things worse."   
She recommends taking time to unwind and relax. "Find things that calm yourself down – long baths, hot showers and just create a nice stress-free environment in your house," she says. 
"Then when you feel like your body is being a little kinder to you, you can start small and slowly build up your physical activity, day by day."  
Read our tips for looking after your mental health with arthritis 
"How much water should I drink during the marathon?" 
It would be an understatement to say that it's important to stay hydrated when running. So, make sure you get enough water before, during or after your run. 
"It's super important you keep hydrated," Lily says. "So, any chance you get to take water, do it. Because it's going to be needed around the body." 
Some people find isotonic energy gels helpful too. "They will provide you with that extra boost of energy," Lily says, "And that extra carbohydrate will help, if you feel like you're hitting a wall."  
"How do you deal with injury?" 
If you're injured, don't push yourself. Give yourself a chance to rest and recover. Your health should always come first, so if you're worried, speak to your doctor or physiotherapist.  
It can be disappointing if you get an injury when training, but Eden says to show yourself some compassion. 
"You don't need to feel guilty or down about it," she says. "There are other things you can do, and unplanned rest days are usually the best ones anyways!" 
"My working day is hectic but I'm trying to eat more protein throughout the day. Is there anything I could be snacking on to get more protein in my diet?" 
Preparing your food for the day can be hard, especially when you're working. But if you're going for long runs, it's important to make sure you give your body the nutrients it needs.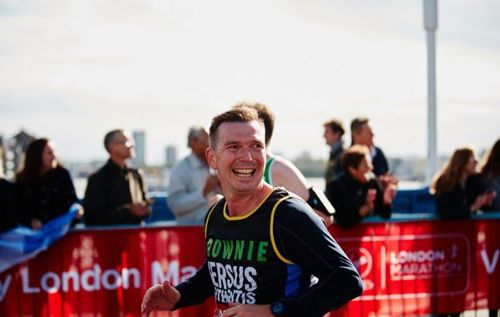 If you're on the go, there are lots of snacks you could bring with you to squeeze in more protein.  
For example, Lily says that "protein bars are amazing and granola bars are full of carbohydrates that will maintain your energy stores." 
"Foods such as nuts and protein yoghurts are also high in protein so (as long as you're not allergic) they're great too," she adds.  
She says that homemade flapjacks are a fantastic choice too because you know what ingredients are in them. "You could put nuts and dried fruit in them, which is a great energy source," she says. 
What should I prioritise when training?  
How many miles have I done? How long have I been running? How long have been on my feet? It's easy to get too caught up on the numbers when training for a race.  
But Eden says that "the priority in training sessions should always be you, and how your body is feeling."  
"When people go down a rabbit hole and get stuck on the numbers, they completely forget the reason why they're running in the first place," she reflects. 
"It's always good to have goals but that's not the priority. The priority is how your joints are feeling and how you are mentally feeling. It keeps it more fun for you as well."