Top tips for swimming with arthritis
16 December 2022

We know that keeping moving can feel like a challenge if you have arthritis. It's best to mix it up and try different exercises. But if you don't know where to begin, why not try taking a dip in your local pool?
If you're new to exercise, swimming can be a great place to start, because it works the whole body without putting too much weight or strain on your joints. That's why swimming is sometimes called a low-impact exercise.
Many people say swimming helps their mental wellbeing. It's also a great way to maintain a healthy weight, which is helpful if you have arthritis because being overweight can put more strain on your joints.
As with any physical activity, it's all about finding what works for you. Because chances are, if you enjoy it, you're far more likely to keep doing it and make it a habit.
Swimming has helped me in so many ways. I've no doubt it played a big part in delaying the inevitable when it came to having my joints replaced. After I've been for a swim, I feel great, and I think 'I have done something today'. It lifts you.
Don't know how to swim?
If you don't know how to swim, check if your pool offers lessons or if there are dedicated lanes for new or slower swimmers.
There are also water-based aerobics classes which you could try. These often involve doing exercises in water that's about waist height as part of a fitness class.
You could even give walking through the water a go.
New to swimming? Here are a few questions to think about beforehand
If you've just had surgery, are new to swimming, or simply haven't exercised in a while, it might be worth chatting with a physiotherapist beforehand. A physiotherapist is a trained professional who helps people with conditions like arthritis stay active and independent. They can help you slowly build up your fitness, so that you can exercise for longer or more intensely. If you don't already have a physiotherapist, you can ask your doctor to refer you or you can refer yourself.
Most people who have psoriatic arthritis also have psoriasis. This is a skin condition, which causes patches of red, flaky skin which is covered with silvery-like patches. If you have psoriasis, the chlorine in the pool might make your skin feel dry and irritated so, it's a good idea to moisturise before you get in the water. Then after you get out of the pool, it might help if you shower with lukewarm water, dry yourself gently and moisturise again.
Everyone deserves to keep fit and healthy, so many pools are accessible for people with different needs and abilities. If you're worried, for example, about getting in and out of the pool, it might be worth contacting your local pool to see if the pool is accessible. They may have a sloped or stepped entry points or a hydraulic chair lift.
Find a pool near you that suits your needs
Managing your pain when swimming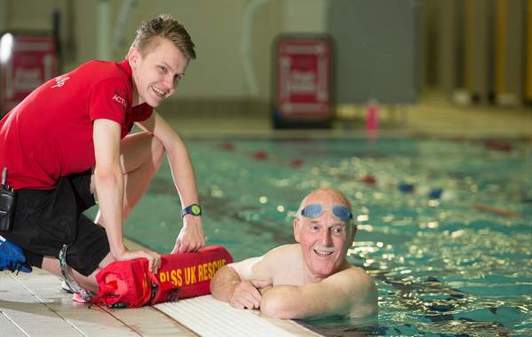 It's normal for your muscles to feel a little sore after exercising, especially if you're just getting started. Some people find that it helps to take pain medication beforehand. But, if you're having a flare-up or are in serious pain, it might be worth speaking to your healthcare team and taking a short break from swimming.
Remember to pace yourself and listen to your body. It's better to build your fitness slowly rather than pushing yourself too quickly and overdoing it.
Before you start any vigorous exercise, you should take 10 minutes gentle exercises to warm up and get your blood pumping.
It's natural to feel a bit tired and achy after exercising. If your joints feel hot or swollen, an ice pack or a bag of frozen peas wrapped in a damp tea towel might give you some quick relief. Apply this for about 15-20- minutes at a time.
You could also use a hot water bottle or warm bath to soothe any achy muscles.
Building your fitness when swimming
Want to rest one part of your body and exercise another? Flotation aids, such as noodles, floats, or armbands can be a huge help.
Swimming in open water (for example, a lake, river or the sea) can be tough and there may not be a lifeguard on hand. For that reason, if you want to give it a go, you might want to some extra training to prepare. It might be worth going for a few swims in your local pool first, so you can build up your stamina and confidence. You could even join a club – some offer introductory courses and training.
Want to build up your overall fitness? Why not try mixing up your strokes so you can work a couple parts of your body in different ways?
How to stay motivated when swimming
Some people find they're motivated when they're exercising with others. If this sounds like you, you could ask a friend if they'd like to go for a weekly swim or you could try a gentle water aerobics class.
When you start moving more, it can be helpful to set goals and reward yourself when you reach them. This can be a fantastic way to keep track of your progress and stay motivated. For example, your goal might sound something like this: "My goal is to go on two short swims with my friend Tom each week, gradually increasing the time we spend swimming so that in one month I can swim for 10 minutes without stopping."
When setting goals, try not too hard on yourself. Some days might be easier than others. So, if you're having a tough day, remember that any movement, however small, can make a difference.
Use our tracker to keep a record of your goals and what activity you've done