People with arthritis can't ignore their pain. Let's make sure the Government doesn't, either.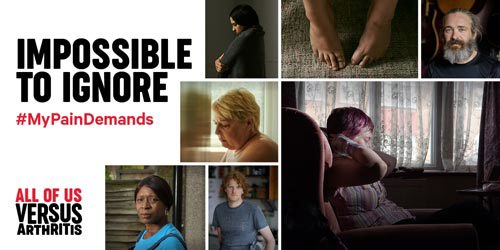 It's not 'just aches and pains', and it's not 'just wear and tear'. It's not alright – it's arthritis, and it can steal someone's family life, independence and even the ability to move freely. Sign our petition now to demand that UK governments don't ignore the needs of people with arthritis.
For many, lockdown has made living with arthritis even harder. With appointments, treatments and even joint replacement surgery delayed, people with arthritis face worsening pain and impacts to their physical and mental health that are impossible to ignore.
People with arthritis need clear communication about when they will be treated and the assurance that they can receive care and services safely during the ongoing pandemic. 
As UK Governments respond to the pandemic and begin to plan for the future, we must ensure that people with arthritis are not left behind, struggling in pain. Our campaign demands action from UK Governments and health bodies to address the life-limiting pain of arthritis.
Our Impossible to Ignore campaign's calling for:
Healthcare services used by people with arthritis and related conditions are accessible throughout the pandemic.
Commitment to the ongoing involvement of people with arthritis to shape the future of treatment and services.
Planned joint replacement surgery to continue – wherever it is safely possible – throughout the pandemic, and that there is action to bring down joint replacement waiting lists. 
Local healthcare providers ensure that people with arthritis have timely and clear communication, and access to advice and support to manage their pain.
Petition to UK governments
We've been listening to the experiences of people with arthritis throughout the pandemic, taking every opportunity to make sure that politicians and policymakers across the UK address their needs. Together, we must continue to push for change.
We know that the cancellation of treatment and disruption to health services has left people with arthritis in severe pain. Nearly half of the 6,000 people we've surveyed in Spring 2020 told us that their arthritis appointments have been cancelled over the pandemic. Coronavirus has led to the widespread cancellation of planned surgery across the UK, with hundreds of thousands of people with arthritis waiting for joint replacement operations. They've been left struggling, in unbearable pain, without a date for surgery.
People with arthritis need clear communication about when they can expect to be treated, advice and support for their pain, and assurances that surgery can restart safely.
Our new campaign, Impossible to Ignore, is calling on UK governments to make sure the needs of people with arthritis are addressed as they plan to restart treatment and services. We need them to understand that the pain of arthritis is impossible to ignore. We need to see plans in place to resume surgery safely, and assurances that people with arthritis waiting for joint replacements have not been forgotten.
Sign our petition now and demand urgent action from governments across the UK.
Add your name to our petition