How can balancing exercises help to reduce your risk of a fall?
09 December 2020

By doing regular exercises to help to improve your strength and balance you can reduce your risk of having a fall.
If you have had falls in the past and injured yourself, you may have a fear of falling. Doing these exercises can also help build your confidence with daily movements. For example, going upstairs or getting in and out of the shower.
Read more about Arthr and their products to help improve daily living.
There are also other benefits to being active, these include improved mobility, better posture, less stiffness and reduced pain. Incorporating balancing exercises into your routine is particularly important for people who have osteoporosis, who are more at risk of fractures if they have a fall.
Getting started
Decide on what type of exercise you want to do and how often. Then block out the time in your diary. It could be 15 minutes before work, a walk in your lunchbreak or some stretches when you are watching TV. Start slowly if you've not exercised in a while and don't be too hard on yourself if you need to do a little less on some days.
If you need some inspiration and motivation, why not sign up to the Let's Move with Leon programme. The classes are designed and presented by exercise expert Leon Wormley, who specialises in working with people with arthritis and related conditions He covers many of these types of exercises and episode 6 on core strength is particularly good. Sign up here.
Finding your balance
There are simple ways you can work on your balance. Here's a basic standing exercise you can try.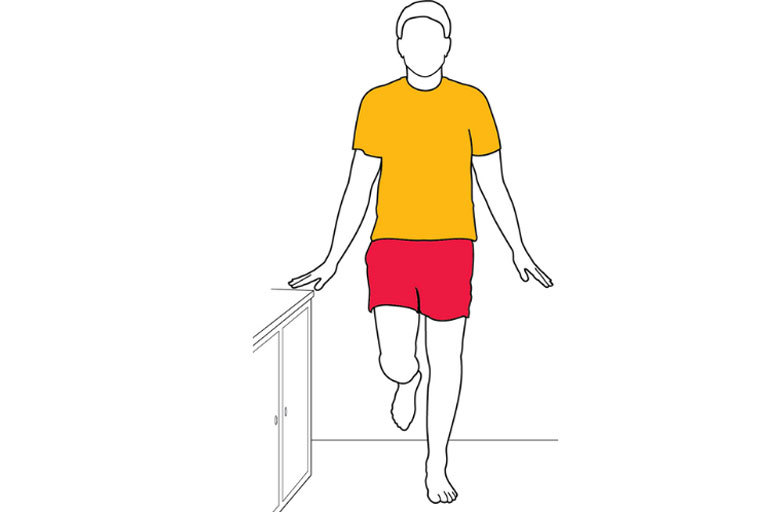 Using a stable object such as a kitchen counter for support, balance on one foot. Build up how long you do this for, aiming for one minute. Try to do this three times and repeat the set twice a day.
Take any opportunities to practise standing on one leg - building it into your daily activities will help you improve.
When you feel confident with this basic balance exercise, you can make it harder by standing on a cushion or pillow. Build up the amount you do slowly, when you can easily balance on a pillow, and if you're feeling confident, go back to standing on the floor and repeat the basic balance exercise with your eyes closed.
Other easy exercises to try at home
The following exercises can be incorporated into any home workout. Make sure you take the time to warm up and cool down before you get started.
Heel raises
Leg swings
Sit / stands from a chair
Marching
Lunges
Check these exercises which can help strengthen and stretch your body, they include specific stabilising movements to help with hip, knee and hand pain.
If you want to try yoga or Tai-chi which are also great to help with balance, you'll find free classes online or there may be local sessions available near you. Read more about why these types of classes can be beneficial.
Exercising outside
Even on colder days it's good to incorporate some outside exercise, and one of the best types to do to help your boost your mood and body is walking. It's free and you can do it in your garden, go on a dog walk or stretch your legs at your local park.
Walking is low-impact and if you make it part of your daily routine, it can help strengthen your muscles, improve your balance and ease stiffness.
If you are worried about social distancing, choose a quieter time to go outside and if it's cold, wrap up warm with plenty of layers.
Get inspired
Here's a few ideas to explore if you're looking for more balancing inspiration.
"It's more important than ever to be active to maintain strength and movement." Read about the Good Boost app.
If you want exercise tips, check out Escape-pain online, this free resource provides exercises to help people living with chronic pain.
We're here for you