Staying motivated to exercise: 6 tips to make exercise a habit if you have arthritis
08 November 2022

It's no secret that staying active is good for us. But we know that starting to exercise – and sticking with it – isn't always easy, especially when you're dealing with fatigue and pain.
With that in mind, here are a few tips to help you stay motivated and exercise if you have arthritis.
1. Make it easier for yourself
We know there are barriers that can make it harder to exercise.
If you're struggling, it can help to understand what makes exercising difficult for you. Then ask yourself: is there anything you can do to make it a bit easier?
Are you struggling to exercise because of pain and stiffness in the morning? You could try exercising in the afternoon or switch to a low-impact exercise, such as swimming.
If you're new to exercise or haven't exercised in a while, you might feel a bit sore the first few times you try it. But remind yourself that, if you stick with it, it will get easier. 
Just start small and remember that any exercise is better than none. Your body is designed to move and resting too much could actually harm your joints and the tissues around them.
If you're worried about spending money, remember that you don't need special equipment or classes to keep active. You could walk outdoors or try our free home exercise programme, Let's Move with Leon.
Many people say that they struggle to find the time to stay active. If that's the case, maybe you can find other ways to squeeze more movement into your life, whether that means getting off the bus one stop early and walking the rest of the way, or even doing some stretches while you wait for the kettle to boil.
Let's Move with Leon - Getting Started
2. Exercise with someone
Many people find that it's easier to exercise with a family member or friend. Exercising is a great way to socialise, whether you fancy going for a lunchtime walk, joining a fitness class, or even taking part in a sponsored walk.
You might find that you're a bit more motivated if you have someone who can cheer you on and help you keep on track with your goals. Plus, they might give you the push you need to be more adventurous and attempt something new, like that dance class you've always wanted to try.
If you're not sure who you could exercise with, don't worry, you can join us.
Take a look at what physical activity groups we have in your area. Or why not join our online community or Facebook Group?
Here you can chat to people with arthritis, like you, who are trying our free exercise programme, Let's Move with Leon.
3. Set goals and reward yourself 
When you start moving more, it can be helpful to set goals. Goals will not only help you stay motivated on difficult days, but it's also a great way to measure how far you've come.
Some people use the word SMART to help them set their goals.
This stands for: 
Specific: What do you want to achieve? Why is it important to you? When, where and who with? 
Measurable: How will you know when you have reached your goal? Some people use fitness watches, apps, or written trackers to keep a record. 
Attainable: Is your goal realistic, based on time, money, your condition? Start small and work your way up gradually.
Relevant: Is this a good time to set this goal? Think about your current health, other people you want to support you in this goal. 
Time-bound: When do you want to reach your goal by?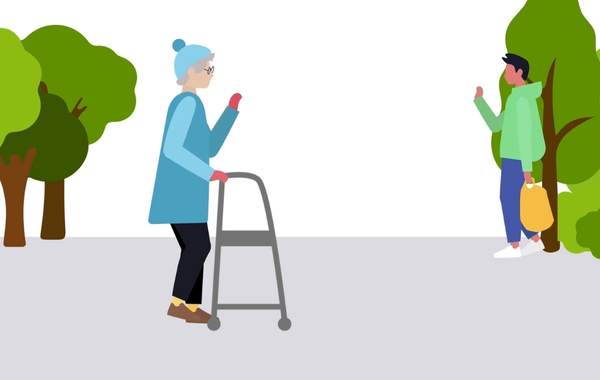 So, for example, you might say: "I want to feel less pain when walking.
"My goal is to go on two walks with my friend Anika each week, gradually increasing the time we spend walking, so that in one month's time I can walk for 15 minutes without stopping."
You can use our tracker to record of your aims and what activity you've done. And if you do achieve your goal – celebrate it!
Not only do you deserve it, but it's a great way to make this exercise a habit.
4. Find an activity you enjoy
If you don't enjoy physical activity at first, try not to be discouraged. You might not have found the right exercise for you yet.
Some people find walking outdoors helps clear their mind. If you love listening to music, a dance class might be for you. Or if you prefer variety, you might enjoy using all the different equipment at the gym, such as exercise bikes and the treadmill. It's all about finding what works for you.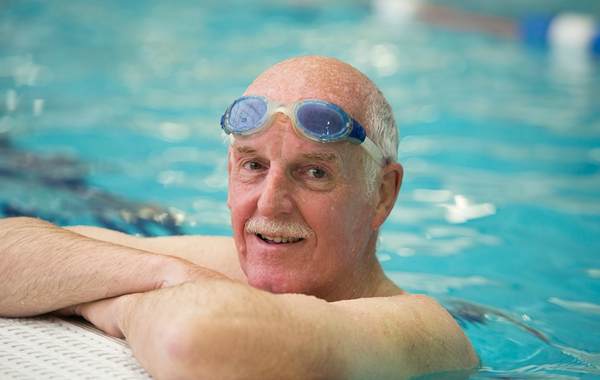 Charles, 62, has had both knees and his left hip replaced because of osteoarthritis. He says: "Swimming is the key thing I do to keep my knees and hip as healthy as possible."
"I won't deny some mornings it's a chore getting up and going to the pool, but I always feel so much better for it. After I've been for a swim, I feel great and I think 'I have done something today'. It lifts you."
Meanwhile Nicki, 35, who has inflammatory arthritis, says that beginner's ballet lessons were the right pick for her as it didn't "feel like exercise." 
"On the days when the pain and fatigue really drains me, going to ballet gives me a boost," she says. "It relaxes me, it's time I can focus on me and it's also a sociable way to keep active. I've got to know the other people and the teachers at the dance school." 
5. Do it regularly
What's the secret to making physical activity part of your routine? It's about doing it regularly so that, eventually, it becomes a habit.
Why not start small and make a cue to help you jog your memory? For example, you could try to go for a 15-minute walk twice a week after you eat lunch. Or you could even set an alarm to remind yourself when to exercise.
Give yourself room to be flexible though. This means you won't be too discouraged or quit if things don't go to plan. 
You can use our tracker to record of your aims and what activity you've done. And if you do achieve your goal – celebrate it! Not only do you deserve it, but it's a great way to make this exercise a habit.
6. Be kind to yourself
When setting goals, try not to be hard on yourself. Some days might be tougher than others but remind yourself that doing any movement, however small, can make a difference.
If you've been trying to exercise and have fallen out of the habit, it's not the end of the world. Don't be discouraged or abandon your goals. Just try again tomorrow.
Remind yourself of what you've achieve so far and that staying active can actually help the symptoms of arthritis.
Keeping moving will make your muscles strong, your joints mobile and will help to improve symptoms such as fatigue and pain. Plus, it's good for your mental health.