How can our Arthritis Tracker help you manage your arthritis?
17 November 2021
The Arthritis Tracker is a symptom and wellbeing app which was designed with the help of teens and young adults with arthritis.
Since the launch in 2020, the app has been downloaded by thousands of people and featured in a special award from the Prime Minister; but most importantly it's been helping many people with arthritis.
"This app has become an essential part of managing my arthritis."
With the Arthritis Tracker you can rate your daily symptoms in seconds and see a simple summary of your pain, sore joints, medication side effects, energy levels, activity, sleep and emotions.
We've made the app easier to use and now you can pinpoint where your pain is and how bad it is using a visual body map.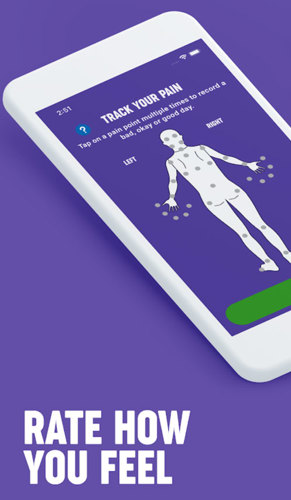 You can also go back to any day and add in information (which is great for those of us who often forget to track on a particular day). To give you peace of mind, your data is automatically backed up.
Thank you to everyone who's shared their ideas or who've got in touch to let us know about the difference the app is making to their life.
What our community have said about the app
You've shared how the app has helped you to find the support services you need, connect with others with arthritis, get a clearer picture of your arthritis and learn more about how medication affects you.
Thank you for sharing.
"I felt more confident going into appointments, allowing me to be more independent"
"I enjoy reading the stories of other young people, it gives me hope for the future."
The app is open to all
Even though the app was originally designed for young people, thank you to all the adults who have got in touch with us to tell us that it has been hugely useful for them too.
We're delighted that you are using it and finding it helpful.
The app is open to adults of all ages to use to track their symptoms and wellbeing; just keep in mind that the information, tips and links in the app may be for a slightly younger age range, however you will find lots of relevant information about arthritis on our website.
Download the app for free today
The app is available on Google Play (Android devices) and the App Store (iPhones and iPads).
Learn more
If you want to learn more about the changes to the app and how to share your feedback, take a look at our dedicated feedback in action.
We're here whenever you need us.
If you would like to talk to someone, you can call our free helpline on 0800 5200 520 
Chat to our Arthritis Virtual Assistant
Join our online community