Keen knitter Margaret talks all about the approaching Versus Arthritis knitting challenge 
02 February 2023

Our knitting challenge is approaching, which means we're asking all keen knitters and crochet connoisseurs to grab their wool and craft throughout the month.
Whether you're an experienced crafter or it's a relatively new hobby, anyone's welcome to get stuck in and see what they can do.   
Many people who live with arthritis find knitting to be an effective way to keep their hands moving.
One of them is 73-year-old Margaret, who knits every day. Margaret was diagnosed with cervical spondylosis around 30 years ago, and with osteoarthritis shortly after. She tells us why knitting is such a huge part of her life and how she's preparing for the knitting challenge in March.  
Learning to knit 
"My mother taught me how to knit as a child", says Margaret. "I was abysmal! I was knitting far too tight.
"When I had my first child I decided if I wanted to knit, I would have to alter my tension. I've knitted for all my children now and as they've grown up and had children of their own, I've knitted for them too.
"If I can't knit, I'm lost. In the winter I can't do much outside, so that's when I knit. My back pain is chronic and mobility is a bit of an issue, but knitting keeps me going." 
The knitting challenge
Since taking part in the 2022 Versus Arthritis knitting challenge, Margaret has created her own online knitting community.
"I've got my own group for knitting and crocheting, which has over 500 members", she says. "Most of them have arthritis or fibromyalgia and everyone in the group is making items to sell.
"I've got a table booked at a craft fair next month, so we're going to raise the funds by selling the items and we'll do a group donation at the end."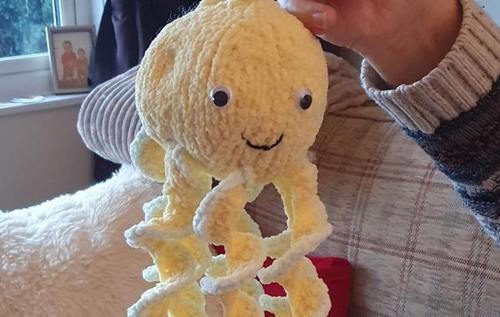 "I've put an appeal out on Facebook to say I'm knitting for Versus Arthritis and asked for spare wool. Two people have brought me some. So far, I've done a pair of mittens and a multicolour pinafore dress with a headband to match.
"Because the wool's been donated and I'm working for free, I can charge a low price but still make good money. We're making cream egg covers because they're the kind of thing coming up to Easter that should sell."  
"I make anything and everything. The materials have started taking over my house! My husband says I've got too much wool – he doesn't understand you can never have too much."  
Knitting with arthritis 
While knitting can be an effective form of meditation and stimulation, the intricacies of the craft sometimes cause pain for people with arthritis. Margaret has experienced such difficulties.
"Both hands have had carpal tunnel release operations. The most frustrating thing about that was not being able to knit. But I've always maintained the knitting as much as I could because it keeps my hands moving and it stops them from stiffening up." 
"I know some people wear compression gloves to knit. I don't, but if I find that it's making my hands hurt, I put it down for a bit." 
Advice for other knitters 
The knitting challenge is great for people of all abilities, and you don't have to be an expert to get involved. Margaret has lots of brilliant advice for less experienced crafters.  
"If you can't do anything else just do plain knitting", she says. "Knit squares and sew them together. Or, if you don't want to sew, crotchet them."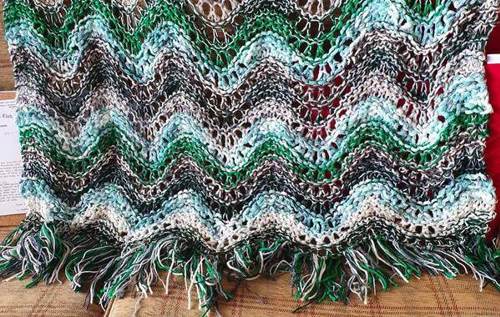 "If you want to knit and you don't know who to knit for, there are loads of places that cry out for things such as neo natal units.
"They normally want blankets or clothing in neutral colours. Hospitals and nursing homes are always in need of "twiddle muffs"– thick hand muffs with bits and bobs attached to them which provide a stimulation activity for people with dementia. There are always outlets if you don't know what to knit." 
"And, if you can't afford a lot of wool, go to charity shops. You can pick up some real bargains. There are loads of sites online that have free patterns, too." 
Knitting for therapy 
Margaret wants others to enjoy knitting as much as she does.
"Knitting is a great hobby. It can be used not only as a tool to keep your hands going, but as a social tool, too.
"If you want to join or set up a group but you're housebound, get on the internet. It's so easy to do. Inspire others and gain inspiration from others. It's all about sharing and helping others to improve.
"Knitting isn't only therapy for the body but also for the mind. When you're knitting your mind is occupied so this helps prevent you from dwelling on pain and discomfort. And there's no better feeling than seeing an item that you've completed. It's therapy for the soul." 
Get involved 
Join our Facebook group to find out more about the Versus Arthritis knitting challenge. 
Or donate to those taking part in the challenge here.