The government must do more for people with arthritis during the cost-of-living crisis
08 February 2023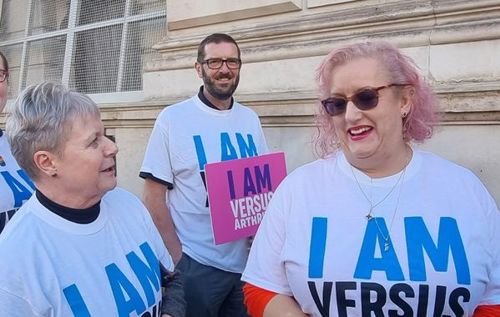 Yesterday (7 February 2023) campaigners Loraine, Ian and Brenda joined us at 10 Downing Street to hand in our open letter to the Prime Minister, Rishi Sunak MP. 
Over 28,000 of you signed the letter, which we launched on World Arthritis Day last year. And we're handing it in now, so it reaches the Prime Minister ahead of the Spring Budget in March, where the government will outline its spending plans for the year ahead.  
The letter calls on the government not to abandon people with arthritis like Loraine, Ian and Brenda, and provide better support to people during the cost-of-living crisis – something you told us is a real concern for you and your families.  
The problem facing people with arthritis 
We've told the Prime Minister that in a survey we ran last year, 94% of you said that you were really worried about heating your homes this winter.
This is particularly critical given that for some of you, the cold weather affects your condition. So, switching off your heating to try and keep bills down simply isn't an option.
And we don't just want to see change in the short-term – the right protections must be put in place for future winters, too.  
We've also highlighted our concerns about the impact of long waits for joint replacement surgery, which we know can mean too much time spent living in pain. For some of you, it's also meant reducing your working hours or stopping work completely.  
And we've shared the worries of the arthritis research community who have told us that soaring costs are negatively impacting their ability to conduct the ground-breaking research.
We need to stop arthritis robbing so many people of the lives they deserve.  
What do we want from the government?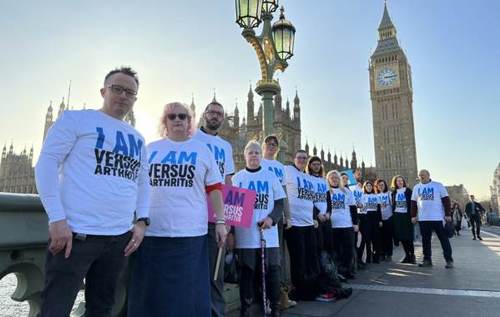 The letter urges the Prime Minister to take urgent action by: 
Ensuring more people with arthritis can access the Warm Homes Discount scheme by reversing changes to eligibility criteria which are making this harder. 
Making sure national plans to bring down waiting times for joint replacement surgery continue to be prioritised throughout the winter.
Protecting vital research into arthritis from the impact of rising inflation.
We don't think we're asking for too much.
And we're grateful that Peter Dowd MP agrees and so came with us to Downing Street today to hand in the letter. We know that other politicians support us too and we hope the Prime Minister will listen.  
We look forward to receiving a response to our letter, and hope that the asks we've made will be reflected in the Spring Budget in March.  
In the meantime, we'll continue to push the UK Government and governments across the UK on these important issues and keep fighting to ensure the cost of living crisis doesn't unfairly impact on people living with arthritis.  
Support for you 
We know just how nerve-wracking it can be if you are dealing with money worries. 
So, if you are struggling to cope with the cost-of-living crisis, remember you don't have to face these problems alone. 
No matter what you are dealing with, you can talk to us. You can: