Ask a professional: How to cope with anxiety or depression as a young person living with arthritis
15 May 2023

Professor Yeliz Prior was diagnosed with juvenile idiopathic arthritis (JIA) as a child, and later was diagnosed with osteoarthritis and axial spondyloarthritis (AxSpA). 
Now she helps other people with arthritis in her job as a Professor of Clinical Rehabilitation at the School of Health and Society, University of Salford.   
Here she shares her tips for looking after your mental wellbeing and coping with difficult feelings.
Living with arthritis can be tough emotionally. Why is this the case?  
"Living with arthritis can be an emotional roller-coaster because it's unpredictable.
The pain and fatigue can vary from day-to-day. So, you have good days and bad days, which can make it difficult to make plans and predict how you will feel from one day to another. 
When we are in pain, fatigued and struggling to get a good night's sleep, it's normal to feel frustrated, sad, low, or anxious. And when we're not able to take part in meaningful activities, this can create a cycle of self-blame, guilt, and isolation, which negatively impact our wellbeing." 
If you're the parent or carer of a young person living with arthritis, what are some signs that they may be struggling? 
"It's completely natural for a young person with arthritis to worry about what the future may hold.  
But if they're struggling for a while, it's important to spot the signs of anxiety and depression early to get the support they need.  
These can include: 
changes in mood or behaviour, including weight loss or gain.  
changes in sleep patterns. 
loss of interest in activities they used to enjoy. 
inability to focus. 
challenging relationships. 
absences from school/ further education / work. 
If you notice any of these signs and are worried about a young person's mental health, try to talk to them and understand what they are struggling with. If you are a parent or carer of a young person living with arthritis and are worried about their mental health, chat to your healthcare team to seek help." 
Some people with arthritis may struggle with negative thoughts. How can we challenge these? 
"Pain is seen as a physical sensation, but it's much more complex than that. Our experience of pain is influenced and intensified by our thoughts, feelings, and memories.  
Negative feelings naturally come up when the pain is constant, and we feel like we can't fix it. We might ruminate about the pain or avoid activities because we think they'll make our symptoms worse. This makes our lives become smaller.  
Most people try to cope with chronic pain by ignoring it, getting frustrated with their bodies, or blaming the activities they have done. But although we may be unable to avoid pain, we have a choice to suffer or not.  
Suffering doesn't reduce the pain we experience. It makes it worse because now we're frustrated, confused, and resentful, which leads to stress and low mood. That's why we should normalise our reaction to pain and practice self-compassion.  
We can challenge our tendency to suffer by being present with pain and thinking about what thoughts and feelings come up. When we can recognise these without judgment, we can start to challenge negative thoughts and behaviours and develop more helpful coping strategies, even if the pain stays the same." 
What are some small steps we can take to help our mood? 
"If you are struggling with anxiety or depression, it's important to remember that you're not alone.  
Developing resilience can help us have a more balanced view of a situation and reduce negative thoughts.  
Resilience is our ability to deal with setbacks. It's not a personality trait. It's something we all need to work on so we can cope with difficult situations when they arise.  
Developing resilience starts with recognising negative thoughts and showing them compassion. Then we can start to do something about them, such as: 
Looking after ourselves (practice self-care) 
Being physically active 
Managing stress 
Doing things that matter to us
Connecting with others
Seeking support when we need it."
How does staying active help us mentally?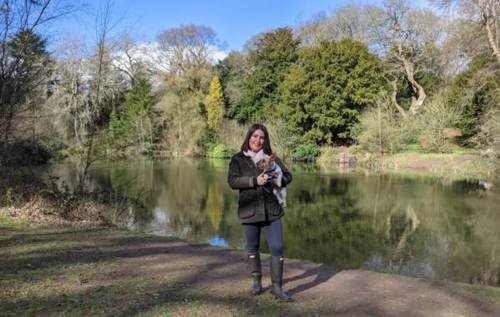 "Physical activity is a great way to keep us healthy as well as improve our wellbeing. That's because exercise releases feel-good chemicals called endorphins in the brain.  
At times, people with arthritis can be reluctant to take part in exercise. This might be because of a lack of energy or fear that movement will cause more pain. 
The truth is, we don't need to follow a strict exercise regime or go to the gym to get the benefits. Even a 10-minute brisk walk can improve our mental alertness, energy and mood.
It's important to choose an activity we enjoy, as this can also help us to cope with stress, increase our ability to focus and give us a sense of purpose. For example, I am not a 'gym-person', but I enjoy walking my dogs, dancing, and yoga."
Why is it important to talk about any difficult emotions we're facing? 
"I believe that a problem shared is a problem halved. When we experience difficult emotions, they can overwhelm us. We might try to ignore these feelings by distracting ourselves and keeping busy, or we might lose motivation to do things and isolate ourselves. 
Talking about difficult feelings can help us understand where they come from and validate our experiences.  
It can also stop repetitive thinking, letting us be present in the here and now. This makes us feel calmer because difficult feelings often arise because of a past or future event, which may or may not happen. "
"When we talk to others, we can get different perspectives, examine if our assumptions are valid, and normalise our feelings and experiences." 
What words of advice would you give to someone living with arthritis who is struggling with their mental health? 
"I would encourage you to open up and talk about your feelings with someone you trust. This could be a friend, family member, teacher, charity peer support group, or health professional. Remember, they are there to help you navigate these challenges. So, they would be more than happy to talk to you.  
If you'd prefer a confidential chat, there are also support helplines available for you. You can text SHOUT to 85258 for free, you can call Samaritans for free on 116 123, or you can reach out to charities that work with young adults living with long-term health conditions, like the Wren Project.
Besides this, there are things you can do on your own to help your mental health and well-being. For example, journaling. 
Simply write down your thoughts and feelings on a piece of paper, phone or laptop. Putting your feelings into words helps you to understand them more clearly and feel in control. As a young person with arthritis, I found journaling so helpful, and I continue to write every day."
We're here whenever you need us
If you need advice or support, you can call our free helpline on 0800 5200 520
Chat to our Arthritis Virtual Assistant
Join our online community
*We would also like to thank Dr Daniela Ghio, Lecturer in Psychology at the University of Manchester, for reviewing this content.